Our March release made a large number of improvements including a change to the way Social Network Scout handles adding leads, contacts, and accounts. Previously if you hovered over a Social Network Scout a pop-up dialog allowed you to react to a feed post (e.g., add the user as a lead, create a case, etc.). The system then took you to the details page. The assumption was one would be adding items in a serial fashion. Social Network Scout's search functionality can be so good, it can, at times, produce an embarrassment of leads.
We've redesigned the CRM interaction by making it easier to tackle important search hits without leaving Social Network Scout. Clicking on a profile ID now expands the poster's details into a pane to the right. Previous options from the pop-up dialog box (add the user as a lead, create a task, etc.) are now accessed via buttons just below a window showing you the message you clicked on.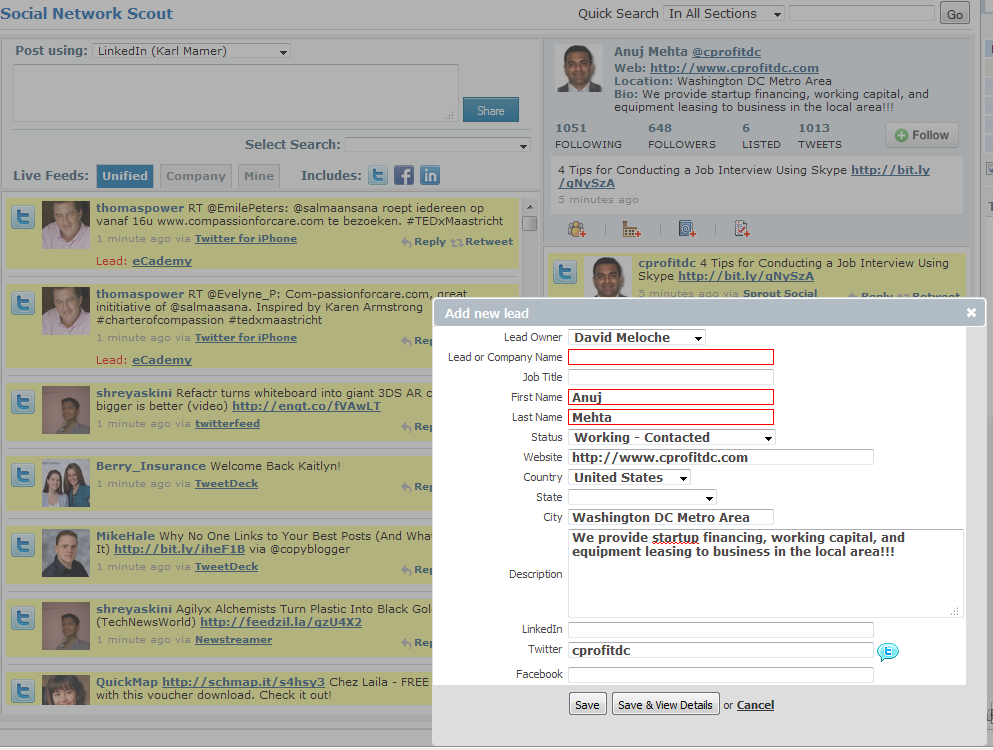 If you want to add, say, a user as a lead, instead of taking you to the detail page, BlueCamroo pops up a preview dialog box showing fields it knows it can complete via API hooks into Twitter, LinkedIn, or Facebook. As well, it has several other fields you can manually complete. For example, Twitter doesn't have a company name field in its user profile. However, many users might place it in their Bio or its in their Web URL. You can easily copy and paste and complete this field.
After completing the pop-up dialog box you can now click Save & View Details to go to the user's newly created Leads Details page or click Save. Save will return you to the Social Network Scout screen so you can continue to add found leads.