Getting clients to pay for post-approval re-design
Has this happened to you before: you've sent a final draft (art work, web site design, specs, etc.) to a client. You called the client to get approval. The client has his coat on, he's heading out the door, has only really just taken a quick glance at what you've sent but says "yeah, yeah. It's great. Let's go with this."
So you do.
And a couple weeks later when the client gets to actually look at what you thought was finalized and approved, he has all kinds of changes. And, oh, that comment he made about "let's go with this"? Well, it turns out it is vaguely remembered by him and he's pretty sure he did not speak in such final terms. You don't want to get into a "I said, you said" situation with a valuable client so you're on hook for, at best, a half day of unbillable work to make the needed changes.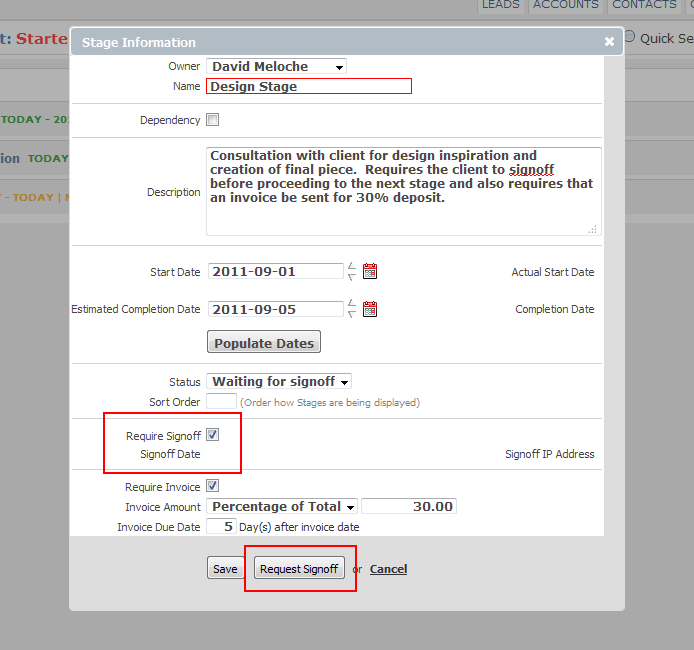 A great feature in BlueCamroo's Projects module is the ability to clearly define what constitutes an approval and establish an electronic "paper" trail. All stages of a project can be flagged to require a sign off. When the stage has been completed, simply click the Send to Customer button.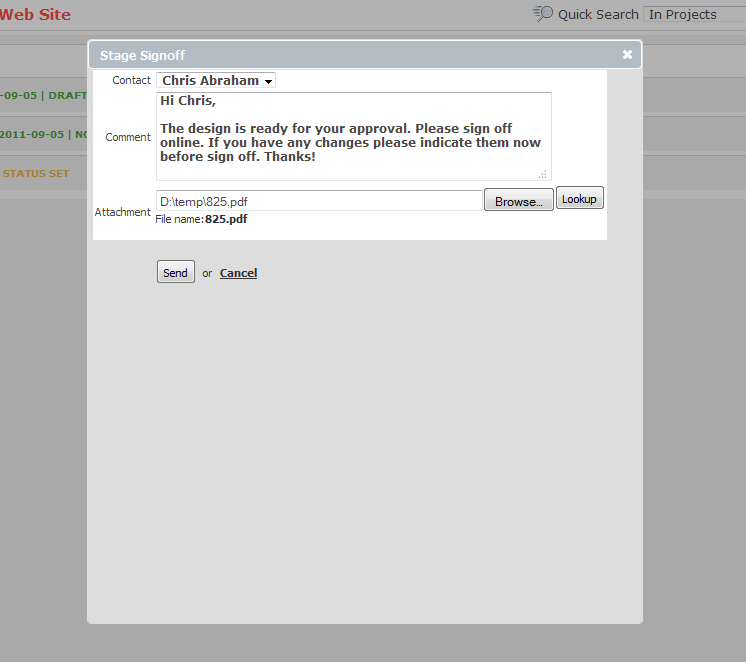 Attach a ZIP file, PDF, Word doc, or image file that needs to be signed off on and click Send.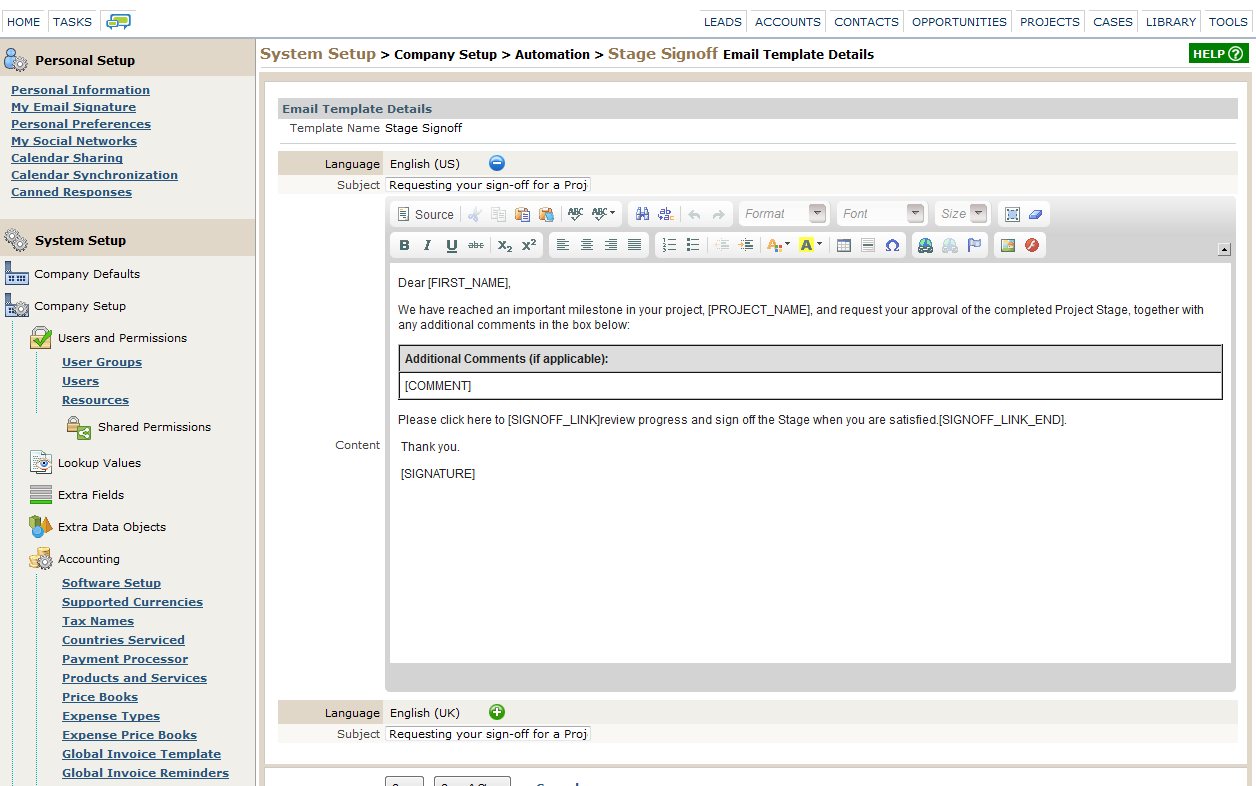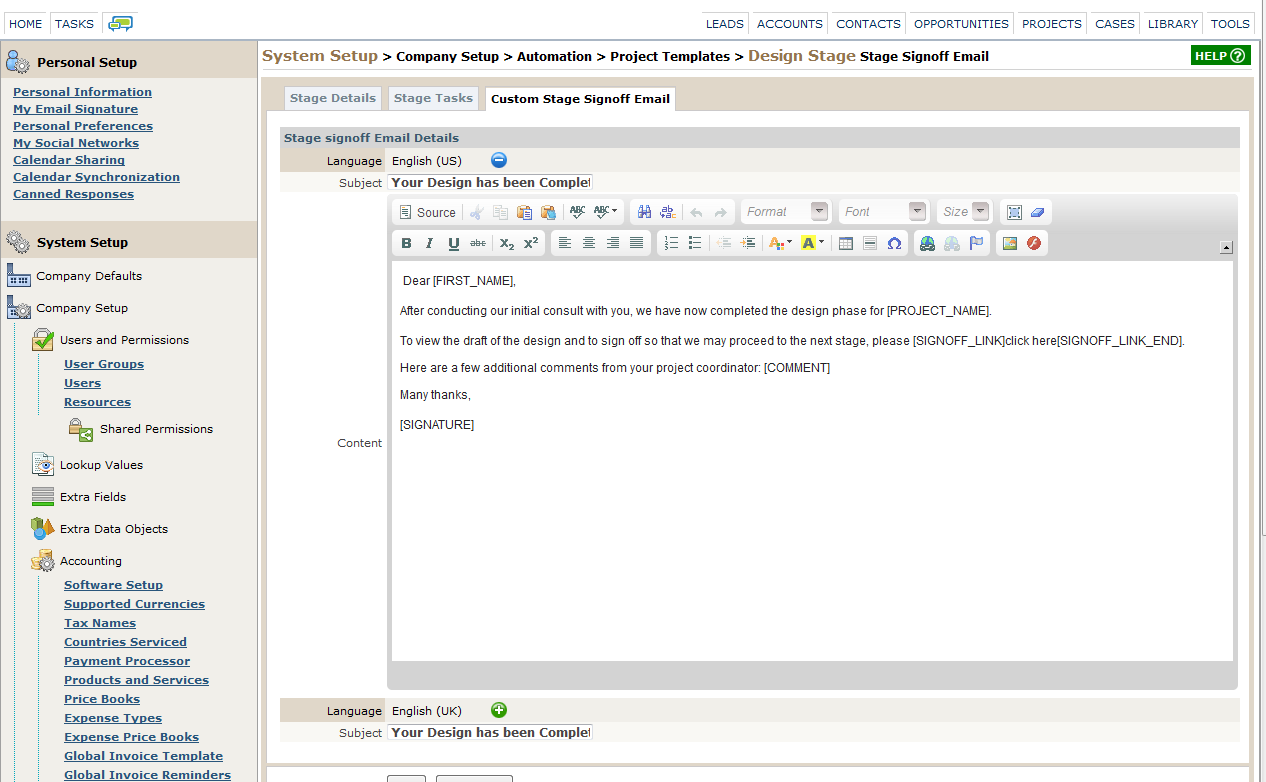 The client then gets an email you've defined either in the Email / Message Template setup section or per stage under your Project Template section.
Note the use of placeholders in the example images. In particular make sure you have a [SIGNOFF_LINK]click here[SIGNOFF_LINK_END] construction as this will allow the client to link from his/her alert email to the actual internet page where the client can accept/decline the stage.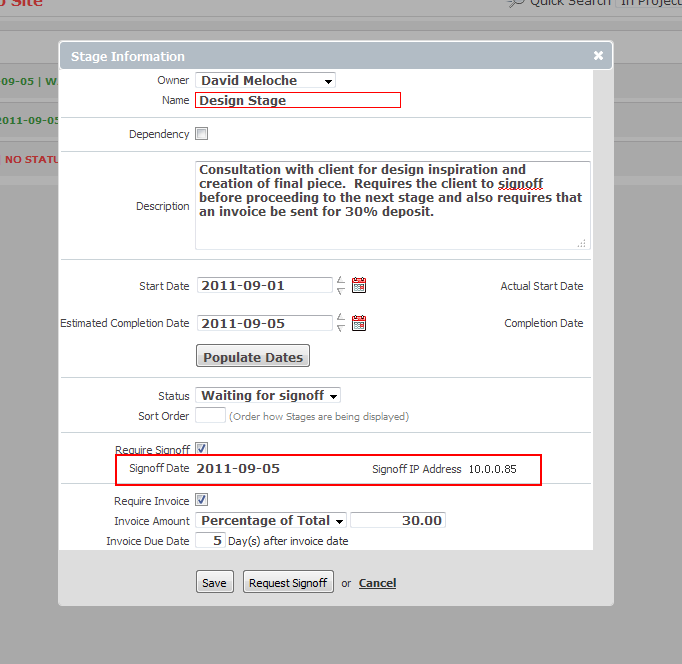 If the client signs off on the stage, the project owner is alerted that the work has been accepted. As well, the stage gets flagged as signed off on and records the IP of the client.
The client clearly knows he's having to sign off on the stage (say a design approval stage). You have emails and an IP to back it up. If the client comes back and requests a re-design after the sign off process, you're quite within your moral rights to unequivocally bill for any re-design work per contract provisions. In the sign off email templates pictured above, you might want to restate or underscore some place terms of the contract regarding fees for post-approval changes.
To think of it another way, if this happens only once a year and you can bill for re-design work you would have normally had to swallow, it's likely BlueCamroo has paid for itself!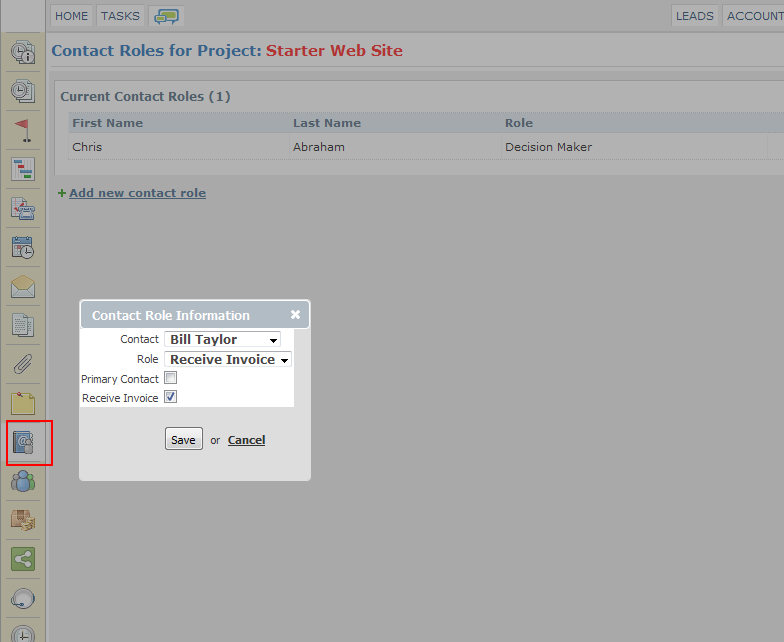 Oh yeah. To setup which contact gets the signoff email, just click on the project's Contact Roles button on the Left Pane Toolbar. Click Add new contact role and select which known account contact you wish to receive the sign-off email.
Filed under:
User Comments
re: Getting clients to pay for post-approval re-design
4/18/2013
11:24 AM
by Rebecca Haden
We're successful at sending the signoff request and getting the signoffs, but the person doing the sign off gets an error message. I figure there's some place I should have set up a "Thanks, we'll get right on it!" message, but I can't find it. Can you help?
re: Getting clients to pay for post-approval re-design
1
re: Getting clients to pay for post-approval re-design
1
re: Getting clients to pay for post-approval re-design
1