Manage your entire customer lifecycle with a single solution
All of the BlueCamroo extensions are fully integrated, and not just independent modules. Users can be given access to multiple extensions depending on their roles. This allows you to mix-and-match User-Roles, and only pay for what your business (and each individual user) needs, without bloating your bill. Available in English, French, and Spanish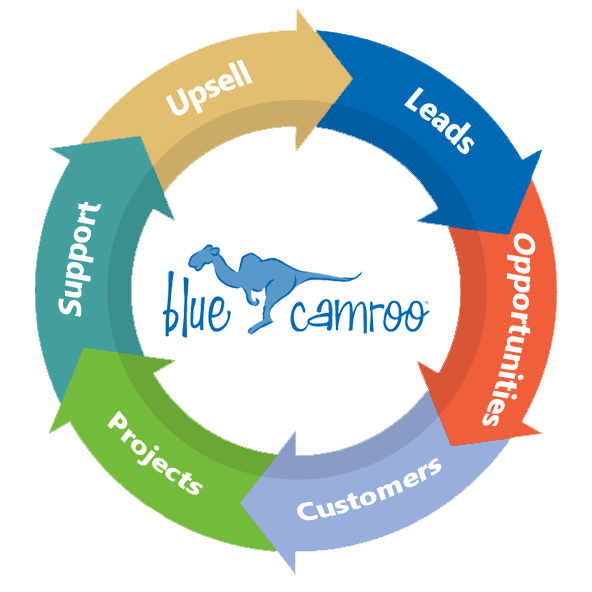 Show Me How
Billed monthly

Billed annually

Best Value
PLANS

CRM Free

Base Foundation for entire platform.

Sales & Marketing

Extension

(Includes CRM Free)

Projects

Extension

(Includes CRM Free)

Support

Extension

(Includes CRM Free)

Complete

Everything

(Includes CRM Free)

Manage your tasks, leads, contacts, customers, and suppliers.
Boost your teams with advanced sales & marketing tools.
Manage your projects from start-to-finish.
Effectively and efficiently support your customer.
Oversee and run your entire business from one place.
PRICING

Free

Up to 4 Users

USD / month / user

paid annually

month-to-month

USD / month / user

paid annually

month-to-month

USD / month / user

paid annually

month-to-month

USD / month / user

paid annually

month-to-month

Get Started Now
Start Free Trial
Start Free Trial
Start Free Trial
Start Free Trial
IDEAL FOR
Any business with customers.
Sales and Marketing Teams
Project Teams
Customer Support Teams
Senior Management, or Employees With Multiple Roles
TOP FEATURES
Leads and Lead Nurturing, Full Contact History, Task Management, Email Marketing, Interaction Tracking, Collaboration, and more...
Includes everything in CRM Free, plus:

Opportunities, Estimates, Sales Quotes, Social CRM, Sales Dashboard, Invoicing & Billing, Time Tracking, Workflow Automation, Website & Landing Page Builder, and more...
Includes everything in CRM Free, plus:

Project & Stage Templates, Time / Budget / Resource Management, Billing, Visual Workbench for Projects, Workspace Collaboration Bridge and more...
Includes everything in CRM Free, plus:

Email Ticketing System, Client Portal, Workflow Automation, Knowledge Database, and more...
Combine CRM Free, Sales & Marketing, Projects, and Support into one seamless solution.

See More Details

See Less Details

Users
Max 4
Unlimited
Unlimited
Unlimited
Unlimited
Storage

2 GB per User

5 GB per User

5 GB per User

5 GB per User

5 GB per User

Support

Free for 14 Days

Included
Included
Included
Included
Bespoke Development
Not Available
Available
Available
Available
Available
Training & Onboarding Services
Available
Available
Available
Available
Available

Personal To-Do List

Tasks and Task Management

Task and Accountability Management

Multiple Task "Stopwatch" Timers

Time Tracking with Approval Management

Tracking and Reporting Billable /
Non-Billable Time

Automated Timesheet Posting to Invoice

Configurable Workflow Rules

Update Streams

Leads/Contacts/ Cases/Projects/ Opportunities

Calendars

Appointment Scheduling

Alerts and Reminders

Notifications

Drop-box for Email, Tasks, and To-Dos

Email Integration

What's New List

Event Resources Management

Work in English, French, or Spanish

Mobile App

External User Portal

System Support, Help and Documentation

Contacts

Customers

Leads

Suppliers

Lead Capturing

Leads Import

Lead Qualification

Lead Nurturing

Lead Profiling

One Click Lead to Customer Conversion

Contact Recording & Planned Follow-up

Customer Profiling

Pipeline Management

Contact Roles Identification

Managed Access to Customer Data

Limited

Limited

Web-to-Lead Forms

Web-to-Opportunity Forms

Lead Capture from Email

Opportunity Tracking

Opportunity Nurturing

Email Sequences

Multiple Estimate Management

One Click Opportunity to Project Conversion

Sales Quotes

Sales Orders

Invoicing

Pricebooks

Products & Services Catalog

Customer Pricing

Social Scout

Work With Multiple Currencies

Flexible Taxation Setup
Unlimited
Unlimited
Unlimited
Unlimited
Define Allowable Countries

Projects

Project Templates

Stage Templates

Auto Scheduling

Invoicing Management

Stages and Tasks Dependencies

Recurring Tasks and Stages

Visual Time Line

Visual WorkBench for Projects

Resource Management

Project Amendments Management

Internal and External Project Roles

Online Client Sign-off

Budgets

Budget vs. Actuals Tracking

Limited

Bring your own SMTP

Email Credit (One time)
25
100
100
100
100
Additional Email Credits
Available
Available
Available
Available
Available
Static and Dynamic Email Lists

Opt Out Tracking

Configurable Email Templates

Email Click-through and Tracking Analytics

Automatic CSS Inlining

Rich Content / Text Only Email Versions

Campaign Analytic Reports

Customer Support Management

Customer Cases / Issues

Support Knowledge Base

SLA Management

Email-based Support Tickets Automation

Cases / Tickets Dashboard

Social Scout

External User Portal

Limited

Top-down Snapshot Views

Leads Dashboards

Sales Dashboards

Projects Dashboards

Support Dashboards

Standard Reports

Custom Report Builder

Export Reports to Excel / CSV

Export Reports to Presentation-Ready PDF

Limited

Extra Fields throughout all Details Pages

Extra Data Objects (Custom Database Tables)

Personal Email Templates

Use Own SMTP Server for System Emails

Limited

Accounting

Limited

Quickbooks (Desktop and Online)

PayPal (Standard and Pro)

Box.com (Online File Sharing)

Outlook/Exchange Server (incl. Office 365)

HubSpot (Digital Marketing)

API

Website Development Platform

Dashboard

eCommerce Module

Connect to Your Merchant Service

Connect to Your Shipping Service

Setup Discounts for Individuals and Wholesalers

Shoppers Database

Use as Ecommerce or Product Catalog

Connect Your Websites to HubSpot

Build Unlimited Websites/Landing Pages/Microsites

Reliable and Secure Web Hosting
Available
Available
Available
Connect websites to Projects in BlueCamroo

Build a Customer Database

Connect Web-to-Lead Forms to BlueCamroo

Connect Web-To-Opportunity Forms to BlueCamroo

Google Analytics

Setup Multiple Languages

Help Documentation

Workflow Guides

Basic Support

Free for 14 Days

Additional Support
can be purchased.

Context Sensitive Help

Help Videos

User Guide

Included with any extension
PLANS
CRM Free
Sales & Marketing
Projects
Support
Complete

Foundation
(Always Free)

Extension
(Includes CRM Free)

Extension
(Includes CRM Free)

Extension
(Includes CRM Free)

Everything
(Includes CRM Free)

Effectively manage your contacts, leads, and customers.
Boost your teams with advanced sales & marketing tools.
Manage your projects from start-to-finish.
Effectively and efficiently support your customer.
Oversee and run your entire business from one place.
PRICING

Free

Up to 4 Users

USD / month / user

paid annually

month-to-month

USD / month / user

paid annually

month-to-month

USD / month / user

paid annually

month-to-month

USD / month / user

paid annually

month-to-month
*All prices are in US Dollars and are subject to GST/HST for subscribers in Canada.
No Contracts
No Hidden Fees
No Worries
What Did They Say?!

We love BlueCamroo, it runs our business! It is the most integral tool our team uses to run an efficient, profitable business that delivers excellent client results!

CEO & Owner WEB Lead Generator — Toronto, Ontario

As a digital agency 100% involved in the success of our customers, we need to keep our business under control : continuously feed our funnel, convert new customers, upsell existing customers, manage projects, track time, support customers…

BlueCamroo is covering all our needs and is now our unique collaborative solution.

CEO & Owner FGP Solutions — Strasbourg, France

Frequently Asked Questions
How does the subscription plan work?
With BlueCamroo you only pay for the modules each user needs. You can mix and match your user types and each will only pay for their modules. For example You can have 2 users that have access to everything, 4 people that only need access to sales, 3 that only need access to projects and 1 that only needs customer support. You would pay 2 Users at $49/m, 4 users at $17/m, 3 users at $21/m, and 1 user at $8/m. That way your bill doesn't become bloated with features that your users never use, while your workspace still retains the benefits of an all-in-one.
You will always have 4 CRM Free spots available. When one of your CRM Free users upgrades to any paid extensions their CRM Free spot becomes available.
What languages is BlueCamroo available in?
Currently BlueCamroo is currently available in English, French and Spanish.
How do I manage my client's entire lifecycle in BlueCamroo?
Please refer to this diagram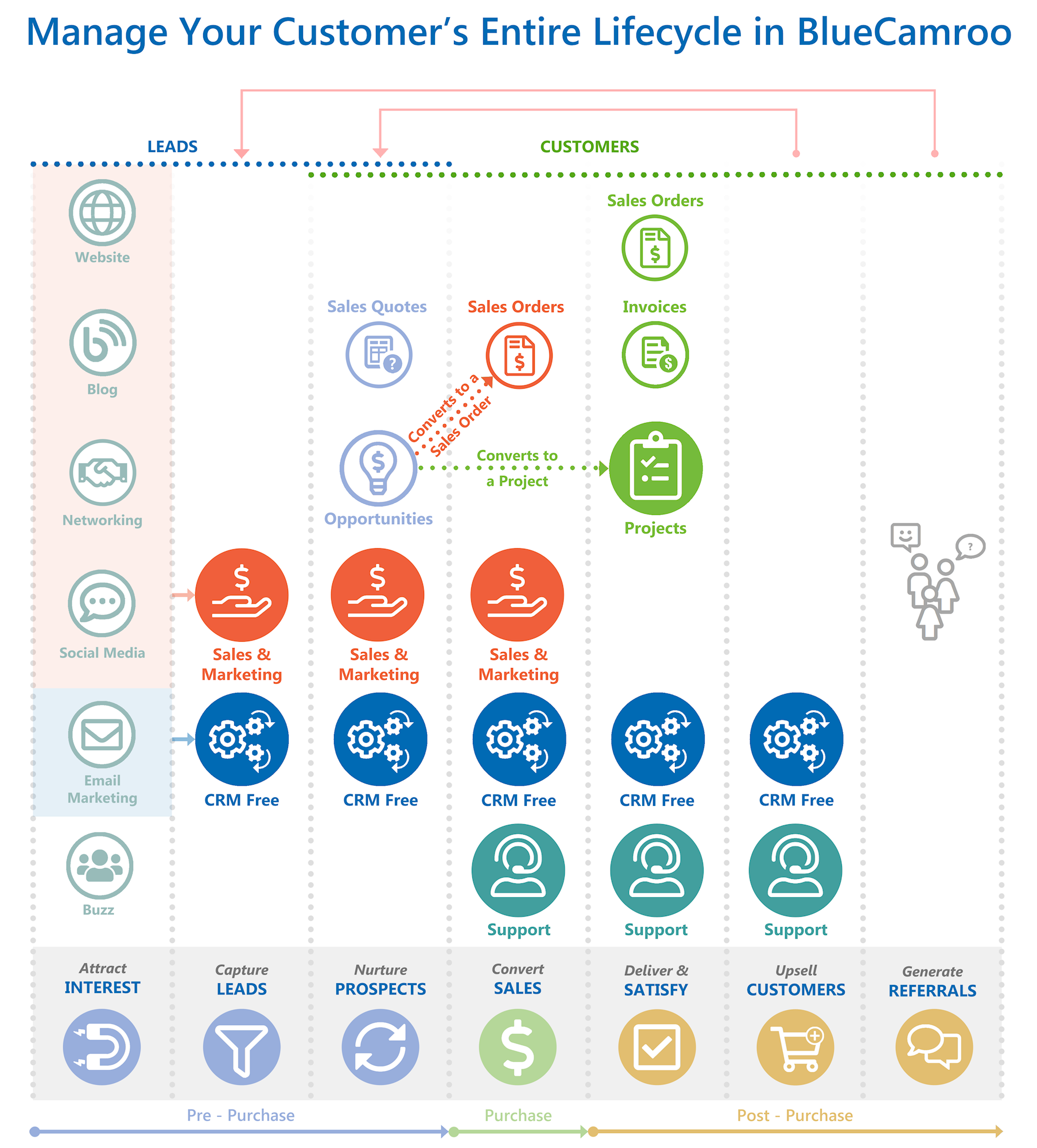 How do the 14-day free trials work?
There is no trial for CRM Free, just start using it. You can start the trials later or you can select any of them and start right away. You can select to do separate 14-day trials for each of our advanced modules: Sales & Marketing, Project Management, Support & Ticketing, and Complete. The administrator simply goes into the Setup section and changes the User Type of the users they want to trial to the module they want to try and that will start the 14-day Free trial. You will get one trial per extension per entire workspace.
Do I need to see a demo first before the free trial?
No. However we strongly recommend it as we think it's important for you to understand the system and where it fits into your business, so that you can determine the best place to start to get the most out of the wide range of services offered through BlueCamroo. We'll show you how to quickly get started for maximum impact and value.
Do I have to provide a credit card during the trial?
No, your 14-day trial period is free and completely free of commitment. We do not ask for a credit card until you are ready to sign up for the service. Then just add your employees to the BlueCamroo system as needed to start running your business more efficiently and profitably.
Do I have to sign a long-term contract?
Nope. Never. There is absolutely no contract to sign! You are welcome to use the service on a month-to-month basis or you can pay for a year in advance to receive a discount on each user.
Will the subscription price ever increase for me?
Nope. As long as you remain an active BlueCamroo user, your subscription cost for the core BlueCamroo functionality will never change regardless of future feature enhancements as well as future price increases. *Future add-ons may carry additional costs (but are optional).
What if I need help during my trial?
You will have access to our support team during your trial period and beyond. Also, we offer onboarding services to make sure your entire team is properly trained to use BlueCamroo efficiently. This helps to ensure you are getting the most out of the system for your business.
Can I build and manage websites or landing pages in BlueCamroo?
With BlueCamroo's modern Web Development Platform (WDP) you can create fully responsive Standard Websites, Landing Pages, or powerful eCommerce websites. The WDP is included in your subscription so you can create as many websites or landing pages as you want. You can build for yourself or for your clients as long as you host with BlueCamroo (Standard hosting fees apply).

When doing nothing can cost you your business, subscribing to change is a surprisingly good value. Opt for change!
Start by subscribing to BlueCamroo's 'CRM Free'

Register and Start Working Today! Transform your Business!