A source of common questions
from those that aren't afraid to ask.
Have a question about BlueCamroo? Check here first.
General Questions
What's included in my subscription?
With BlueCamroo you only pay for the modules each user needs. You can mix and match your user types and each will only pay for their modules. For example, you can have 2 users that have access to everything, 4 people that only need access to Sales, 3 that only need access to Projects and 1 that only needs Support. You would pay 2 Users at $49/m, 7 Users at $21/m, and 1 User at $8/m. That way your bill doesn't become bloated with features that your Users never use, while your workspace still retains the benefits of an all-in-one.
What languages is BlueCamroo available in?
Currently BlueCamroo is currently available in English, French and Spanish.
How do I manage my client's entire lifecycle in BlueCamroo?
With BlueCamroo allowing to capture most of the aspects of business activities related to customers, and the centralized database, it offers an unparalleled view and the ability to manage the entire customer life-cycle from one place.
From when they're a lead with CRM, to using Sales to convert them in to a client, to delivering a project to that client and making sure they are being taken care of with Support. However, it all starts with CRM.
Please refer to this diagram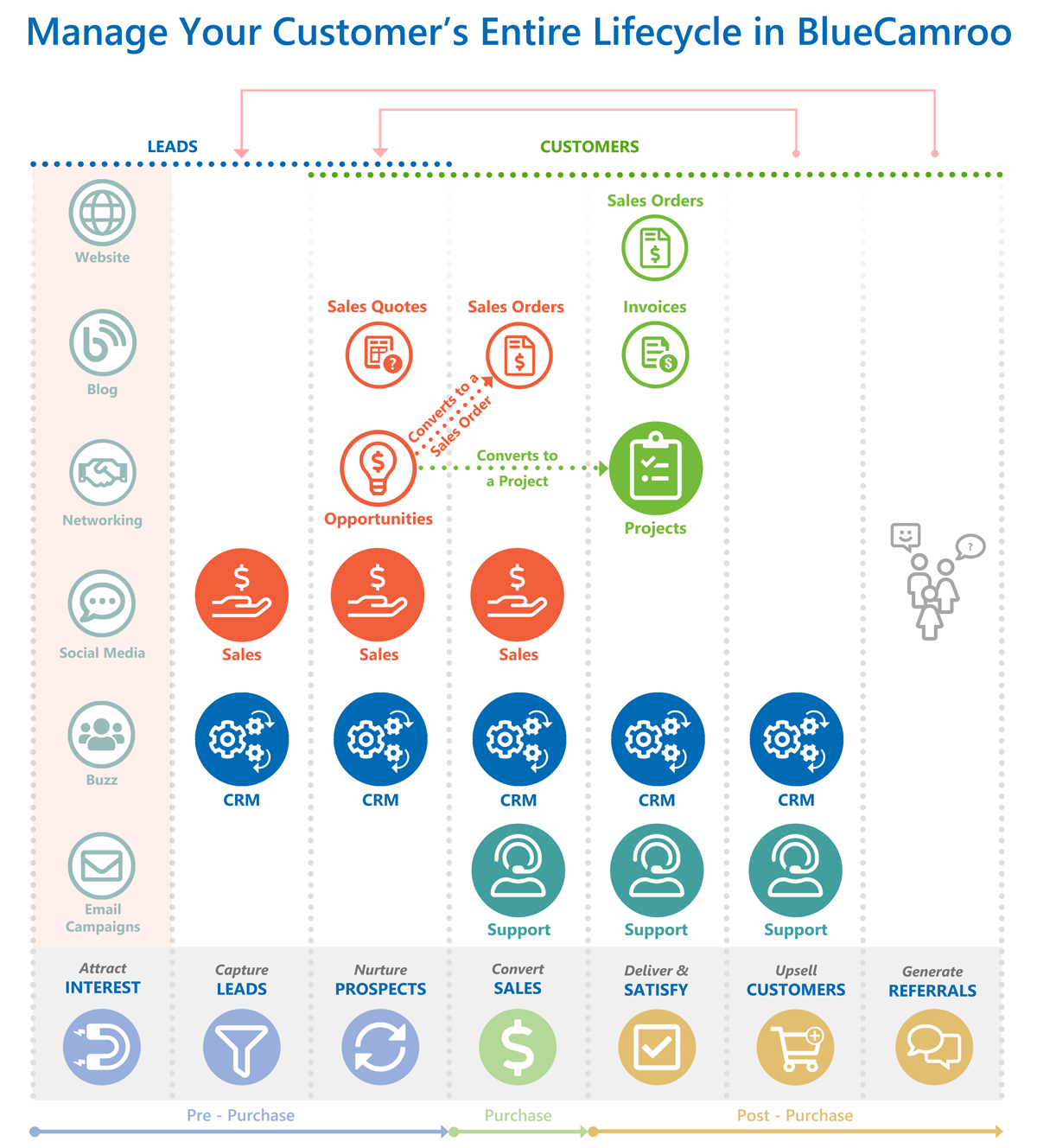 How does the 14-day free trial work?
You can select to do separate 14-day trials for each of our advanced modules: CRM, Sales, Project Management, Support & Ticketing, and Complete. The administrator simply goes into the Manage My BlueCamroo Subscription section in the User Menu and changes the User Type of the users they want to trial to the module they want to try and that will start the 14-day Free trial. You will get one trial per extension per entire workspace.
Do I need to see a demo first before the free trial?
No. However we strongly recommend it as we think it's important for you to understand the system and where it fits into your business, so that you can determine the best place to start to get the most out of the wide range of services offered through BlueCamroo. We'll show you how to quickly get started for maximum impact and value.
You can also visit our Videos Section for walkthroughs of each of the Extensions.
Do I have to provide a credit card during the trial?
No, your 14-day trial period is free and completely free of commitment. We do not ask for a credit card until you are ready to sign up for the service. Then just add your employees to the BlueCamroo system as needed to start running your business more efficiently and profitably.
Do I have to sign a long-term contract?
Nope. Never. There is absolutely no contract to sign! You are welcome to use the service on a month-to-month basis or you can pay for a year in advance to receive a discount on each user.
Where is my data stored?
On April 18th, 2018, BlueCamroo completed migration from a major data center in Toronto, Canada to the Microsoft Azure cloud. This migration brings with it several benefits for BlueCamroo users: increased performance and user experience globally, improved Disaster Recovery capabilities and enhanced security among the others. The Azure servers we use are located in Canada.
What if I need help during my trial?
You will have access to our support team during your trial period and beyond. Also, we offer onboarding services to make sure your entire team is properly trained to use BlueCamroo efficiently. This helps to ensure you are getting the most out of the system for your business.
If you encounter a bug or an error message which you don't understand what triggered it, take a screenshot and send it to support@bluecamroo.com. Let our support team know what action you took which triggered it and they will resolve it ASAP.
If at any point in your trial you want to book a call with our sales team so we can help you get a better understanding of BlueCamroo you can click on Need More Help in the User Menu to contact us.
Can I build and manage websites or landing pages in BlueCamroo?
With BlueCamroo's modern Web Development Platform (WDP) you can create fully responsive Standard Websites, Landing Pages, or powerful eCommerce websites. The WDP is included in the Sales, Projects and Complete extensions, so you can create as many websites or landing pages as you want. You can build for yourself or for your clients as long as you host with BlueCamroo (Standard hosting fees apply).
How do I navigate BlueCamroo?
With these FAQs, as well as the Help and any guides we may put out we will use certain terms about where things are on the screen. You can use this image as a basic guide where things are laid out on BlueCamroo: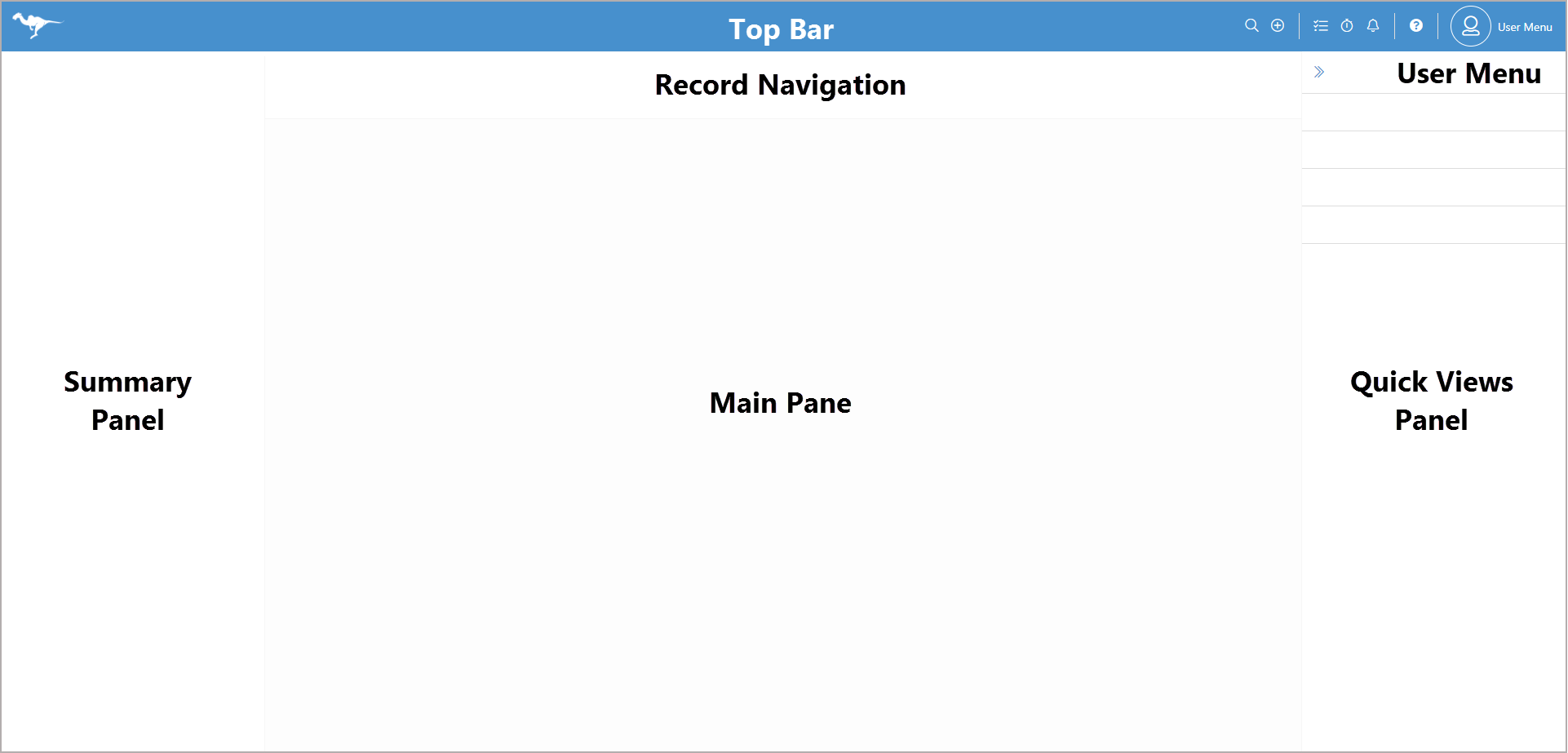 Are there any limits on the number of leads, contacts, customers, etc?
No, at BlueCamroo we do no place limits on the number of records you can enter into the system. Even with CRM, our base option, we do not restrict your business by imposing limits.
Questions about Leads
What is a lead?
A lead in BlueCamroo is a person or organization that expresses interest in doing business with your company. This can be someone who you have met directly, cold called, or even someone who has filled out a form on your website.
You can work with leads in one of two ways. You can use leads as a way of collecting tentative prospects. As you firm up a lead, you can qualify the record and convert it to Customer record with a "Prospect" status. Alternatively, you can use the Lead record to move the prospect from initial contact to developing opportunities and issuing sales quotes. Upon contract acceptance, you can then convert the lead into a proper Customer record.
How can I convert a lead into a Customer?
To convert a Lead over to a Customer record, locate the Lead via the Explorer Bar. Open the Lead. In the Information Panel, you'll see a link at the bottom that says Convert to Customer. Click it and follow the steps.
How can I get leads from my website forms into my BlueCamroo account?
BlueCamroo includes a Web-to-Lead feature so that you can generate HTML code for forms to use across your website.
As a BlueCamroo System Administrator, you can go to Setup and go to Web-to-Lead under the Automation section.
Just fill out the necessary fields and click the Generate button to automatically generate the HTML code for your new form.
All you need to do now is take this code and put it on any page on your website and when a website visitor fills out the form, all of the details will automatically be sent and stored in the BlueCamroo system under Leads.
All about Record Management
How can I transfer ownership of a record (for example, a lead)?
First, make sure the person you want to transfer ownership to has rights to the record type. For example if you're trying to transfer ownership of a lead, make sure the user has access to Organization and People records. Transferring ownership of items can only be done with someone who has been given full access permissions.
To transfer ownership of a record, locate the record via the Main Navigation Panel. Open the record. Click on the record's name in the Summary pane. You will see an Owner drop-down box. Select the new owner and click Save.
Is it possible to share access to a record with other team members?
Yes it is. If you want to give another user access to your record but don't want to lose actual ownership, sharing is the way to go. A record can be shared with one or all of your internal users, as long as they have rights to the record type.
To share a record, locate the record via the Main Navigation Panel. Open the record. Click the Shares item in the Summary Pane.
Once on the Shares page, click Add new and select to share with a specific user group or user and set their access permissions. You can even select a date range that this share will be effective for – this is a great option for sharing an account when one member of your team is off for a temporary leave, like a vacation.
How can I add contacts to an organization or customer?
Contacts are Person records. Once you have a Person record in the system, you can associate that record with a known Organization or Customer record. Locate the Person record you want to associate with an Organization or Customer via the Main Navigation Panel. Open the record. In the Summary Pane, you'll see a link at the bottom that says Add New Organization. Click it. In the Organization field, click the Lookup button and locate the Organization using the Search dialog. Click Add.
Working with Contacts
What are contacts?
Contacts are Person records you associate with an Organization, Company, or Supplier record. These could be the people within organizations that you are dealing with.
BlueCamroo contacts need to be associated with an organization that has been entered into the system. An organization can be a customer or supplier record as well.
Can I have more than one contact for an organization, customer, or supplier?
Yes, BlueCamroo allows you to have as many contacts per organization record.
What is a primary contact?
A primary contact in BlueCamroo is the individual who will most likely be the first point of contact when dealing with the account.
Making sales with Opportunities
What is a close date for an opportunity?
A close date for an opportunity is the date that you expect to close the deal on. This allows all team members to see when the expected close date is and is also very important from the reporting perspective so that you can see the total value of all future opportunities. If you generate a Sales Quote, the quote's valid date will default to the close date.+
What is the opportunity value field used for?
The opportunity value field is used to store what the total value of products and services is that are being used within the potential sale.
The value of this field will be automatically calculated each time you add and remove products and services from an opportunity.
How can I track an opportunity?
At any time, users with access to the Reports area of BlueCamroo can create a report to show all opportunities within the system, what stage they are in, and what the total value of the opportunity is.
What is opportunity probability?
Opportunity probabilities are the probability (or chances) that you think you have in sealing the deal.
Probabilities can be manually entered during the lifecycle of an opportunity, but can also be associated with different phases of the opportunity lifecycle.
From a management and forecasting perspective, reports can be drawn up for any opportunities that have a greater than or less than XX% chance of succeeding. BlueCamroo provides a pre-defined Sales Opportunity Tracking report that uses opportunity probability to calculate your pipeline valuation.
How can I convert my opportunity after I have closed the deal?
Opportunities can easily be converted by opening the opportunity and clicking the Convert Opportunity to Project link found at the bottom of the opportunity's Summary Panel.
Getting to Work with Projects
How many projects do I get with my BlueCamroo account?
You get an unlimited number of projects.
How can I see what has happened with my project since my last visit?
BlueCamroo gives you the ability to view project activity in a number of ways.
Within a specific project, click the History option on the Summary Pane. It might be hidden, so click the More link. You will see a day-by-day change log. Click the Update Stream option on the Summary Pane. The Update Stream provides an interactive wall internal and external users can use to post updates. Finally, click the Snapshot option on the Summary Pane to see an overview of the status of stages, tasks, events, and more.
Can my client view tasks and stages of my project?
Yes. As part of your BlueCamroo environment, you can invite customer contacts into the BlueCamroo system. BlueCamroo provides an invite feature. Upon inviting the contact, BlueCamroo will generate a welcome email and login details for the contact. The contacts can login and view their projects, view and pay outstanding invoices, and view and create new cases.
When your external clients login and view their projects, they can see any tasks that have been assigned to them and view project stages and tasks to see their estimated completion dates and those that have been completed.
How can I keep my project team informed?
The Update Stream is a good, centralized place for team members to keep other team members informed
Project Stages
What is a project stage?
A project stage is a particular stage of the project lifecycle that will include a set list of tasks that need to be carried out in order for the stage to be completed.
Stages within BlueCamroo can use dependencies, Signoff requests for the end client to approve before proceeding to the next phase, and use invoices to collect payment as different milestones are reached.
How do I add tasks to a project stage?
To create tasks that are associated to stages of a project, simply go into the Stages section of a particular project, create a new stage (if you haven't done so already) and then click the Add new icon on the Actions bar.
How does a stage signoff work?
Project Stage signoffs help ensure that important milestones of a project are approved by the end client before proceeding on to the next important stage.
If we use a Graphic Design firm as an example, they may need their end client to approve the Logo Design stage of the finished logo before proceeding on to the next Stage of Website Skin Design. Stage Signoffs give your client the ability to approve or signoff on this milestone.
Can I have invoices related to project stages?
Yes, each stage of BlueCamroo allows you to say whether or not the stage requires an invoice to be sent and then to have a Fixed amount invoiced or a percentage of the total project cost to be invoiced.
When it comes time to send the invoice, you can quickly click the Send Invoice button in the Stage Details or you can create an automatic workflow rule to have the invoice sent out automatically on a date or when the status of the Stage has been changed.
How do I make one stage dependent on another?
When creating a project stage, you can easily select to have it rely on (be dependent on) another stage Finishing or Starting and any lag time in Days between each stage.
Just select the dependent stage from the Dependency field, select the type of dependency (Finish to Start or Start to Start), enter any lag time in days and then click the Add button.
Tasks & Task Dependencies
Can I set priorities on a task?
Yes you can. When you are creating a new task or editing an existing task, you can set its priority by select a level of priority from the Priority drop-down field.
Tasks that are marked with a high priority will be marked with a red exclamation point in any Tasks to Do list.
How can I be reminded of when a task is due?
When creating a new task you can enable an option to be sent a reminder a certain period of time prior to the due date.
The Task detials page provides a Reminder drop-down box. Select a time in hours, days, or weeks that you would like to be reminded prior to the task's due date.
What's the difference between Finish to Start and Start to Start dependencies?
A Finish-to-Start dependency means that the dependent task must be finished before the working task can be started. A Start to Start dependency means that the dependent task must be started in order for the working task to start.
How does dependency lag time work?
Lag time is the amount of breathing room in days between the tasks or stages that share the dependency.
Can more than one person be assigned to a task?
Yes. You can setup user groups that allow group task assignments. When creating a task, check the Assign box. Select Group from the accompanying drop-down box. You will then have the option to assign this task to a group.
Tracking Time in BlueCamroo
How can I add time for a task?
When you close a task, you will be given the option to add time. Enter who the time should be logged for, the date and duration spent on the task, a comment, choose to save it to your timesheet and whether the time will be billable or not.
Can I mark time as being billable?
Yes. When closing a task and adding new time in BlueCamroo, all you will need to do is check the Billable checkbox and the task with its time will be flagged as billable when searching timesheets and preparing reports.
How do I report on time?
To generate a report on time, go to the reports section (those with access will be the only ones able to generate reports) and select the Create New Report option.
You can also click the Time option from the Main Navigation Panel and see a weekly report.
How can I see my employees' timesheets?
As a BlueCamroo system administrator, you can view your employees' timesheets by clicking the Time button from Main Navigation Panel. The View Other User Time Sheet drop-down box lets you select the employee.
Can time for a task be incremented from day to day?
Yes. Whenever you add progress for a task click the Add Time check box. Enter duration of time spent on the task, the time counter will be incremented.
Emailing with BlueCamroo
How do emails I've sent from BlueCamroo work?
When you send an email to a team member, customer, or any one else, an email message will be sent to their email client of choice (Outlook, Blackberry, iPhone, etc,) and when that individual replies, their reply will automatically be sent to both your choice of email client as well as directly into the BlueCamroo system.
How can I reply to a message that I have received in the system?
To reply to one of the email messages that you have received in BlueCamroo, you will just need to click on the email to open and view the message, and then click the Reply button at the bottom of the page.
Can I forward an email for my team members?
Yes, just as you would reply to an email message that you have received in the BlueCamroo system, you can also have the option to click the Forward button to forward the message on to others.
Can I send an email to one of the user groups that I have set?
Yes, just as a distribution list would work, when sending, replying to, or forwarding a message, you will have the option to select a User group that has been created in BlueCamroo that the message will be sent to.
BlueCamroo automatically determines the users belonging to the user group and will send the message to each member.
Invoicing and Getting Paid
How can I schedule an invoice?
When you create a new invoice, you can click the Sent Automatically checkbox and have the invoice email to the client on the configured Invoice Date.
Can I send out reminders for past due invoices?
Yes you can and BlueCamroo can do this for you automatically. As a System Administrator, visit the BlueCamroo setup and click on the Accounting Setup section.
Just select Global Invoice reminders and begin creating reminders for differing intervals of past due time.
How do I customize the look of my invoices?
As a System Administrator, visit the BlueCamroo setup and click on the Accounting Setup section.
Just select Global Invoice Template and use HTML editor to build your invoice.
BlueCamroo comes out of the box with a general invoice layout that you can easily add your company logo to.
How can my clients pay invoices through BlueCamroo?
When you send out an invoice via email, BlueCamroo includes a direct link to an online payment page. Clients can also be invited into the system as external users and review their invoices.