A Smarter CRM... And it's Free!
The one thing all businesses have in common is that they have clients and they all want to do a better job of serving them.
That means a CRM is an invaluable asset to any business, and the reason we decided to make it the foundation for our entire platform. We also made it Free!
Managing Your Customer's Entire Lifecycle Begins with CRM Free
Start taking control of how your business deals with leads and clients by having the right tool for the job. Gain transparency over the touch-points you have had with every single contact you have and optimize their buying journey.
BlueCamroo CRM Free will empower you to track your clients from when you first make contact, throughout your deals with them and into every upselling opportunity and beyond.
Watch your entire team be able to see and analyze every note, email and call log, making sure your business can get the most out each opportunity with these tools:
Lead Nurturing
Multi-Channel Lead Capturing
Opportunity Tracking & Nurturing
Task Management
Call and Meeting Scheduling
Collaboration Engine
Base Workflow Automation
Email Marketing
Reporting Dashboard
And more…
Which Picture Looks More Like the World You Live In?
If you've worked with a CRM system in the past, you've probably got used to having your data organized something like this:

This is great, at least until one of your contacts leaves the 'Account' they're connected to and moves to a different company, or until a customer comes along who's just an individual consumer so doesn't have any company to 'belong' to.
BlueCamroo's patent-pending CRM approach and architecture is built for the real world in the 21st Century - a world where people move from job to job, or freelance with several organizations at the same time, or sometimes buy from you on their own account - not on behalf of a company.
In BlueCamroo you're not tied to 'Account' and 'Contacts'. Instead, you work with People and Organizations, like this: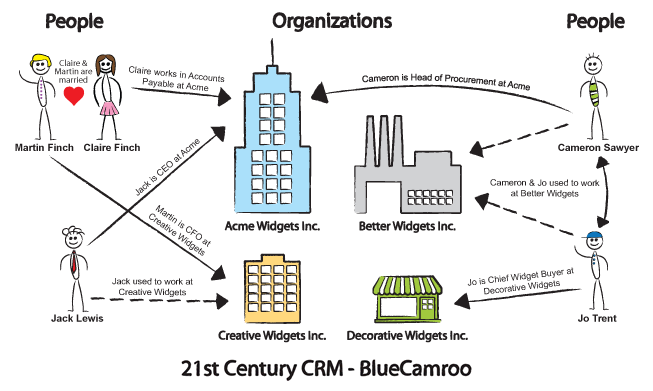 CRM Free is the Foundation for the Entire BlueCamroo Platform
BlueCamroo is not just a CRM, it is a Business Management Software built on top of CRM platform which allows you to add any of BlueCamroo's distinct and powerful extensions to the CRM Free foundation, and pay only for the features your business actually needs.
With BlueCamroo software you can start transforming your business today by signing up for CRM Free and when your business demands it, adopt any or all of the extensions: Sales & Marketing, Project Management, and Customer Support. Our innovative business model allows you to scale up to any of these extensions as you need it without bloating your bill.