Build as Many Websites, Ecommerce stores,
Microsites, or Landing Pages as You Want
CamrooSites with CamrooCommerce is a modern Web Development Platform that allows the creation of fully responsive standard websites or powerful ecommerce websites. You can connect your websites with BlueCamroo and benefit from integrations with Google Analytics and HubSpot Digital Marketing platform for more effective lead/customer targeting.
The combination of CMS and CRM in one system is a unique advantage for your digital marketing strategy. For many businesses, the website is the first point of contact between you and your customer. Embedded Business Intelligence logic applied to your website will take advantage of BlueCamroo's workflow automation engine that in conjunction with Email Marketing engine delivers an effective lead/customer targeting approach to acquire new business opportunities and to maintain strong relationships with existing clients.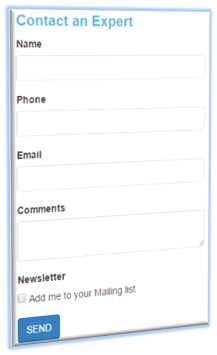 Completely Automate Your Lead Follow-up
Direct your leads in to BlueCamroo through a Web-to-Lead form. BlueCamroo's Campaign Manager can automate the lead follow up to send out a series of newsletters any number of days after. Not only does this keep your Leads engaged with the company, but also allows you to create a new campaign based on click through actions that a customer may have taken with a newsletter.
When integrating BlueCamroo with CamrooCommerce you'll be able to not only track a buyer's shopping habits but then create workflows that automatically send targeted email campaigns to that buyer. However, BlueCamroo is not just a CRM, it also integrates Project Management, Collaboration, Tasks, Customer Support, Invoicing, Time Tracking and much more.
While CamrooCommerce can help you run your store BlueCamroo can help you run your business.
Powerful Modules to Boost Your Site
BlueCamroo give you access to Modules that will help your website become a powerful tool. Whether you need access to an Image Gallery, an Event Calendar, a Banner and more…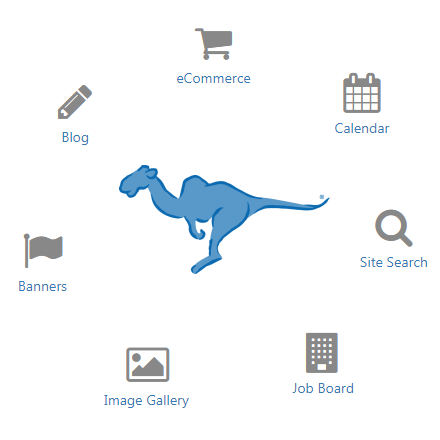 Blog Module
A blog is one of the best online strategies for any business. A well-executed blog can help drive traffic to your website, establish the author as an expert, move visitors through their sales cycle, and create long term online success. The most important commodity for any business using the web is content, and a blog is the easiest way to add it on a regular basis.
Job Board Module
Employees are your biggest assets as a business. They represent you to your clients, partners, and to the general public. Finding the right people can be challenging and a lot of people don't use their own website as a tool to expand their own team. CamrooSites allows you to promote your job board to the public and can help you attract qualified applicants to apply.