BlueCamroo Release Notes 5.1.1
What's New in BlueCamroo?
This Version 5.1.1 release introduces integration with HubSpot, User Notifications, enhancements to BlueCamroo's Update Stream and a number of other features that make using BlueCamroo a smoother and even more productive experience.
Update Stream Enhancements
Keeping track of important, timely information on a number of different fronts is always a challenge. BlueCamroo's Update Stream makes it less challenging by showing you all your chosen updates on one social networking‐style screen. To make the Update Stream even more useful, we have deepened its features:
Cross‐Referencing People in Updates
When you are entering an update and want to reference other people by name, BlueCamroo now automatically suggests names related to the underlying record as you type. If you want to reference People not directly related but existing in your BlueCamroo database, you can also use '@' followed by the name and BlueCamroo will look for them as well.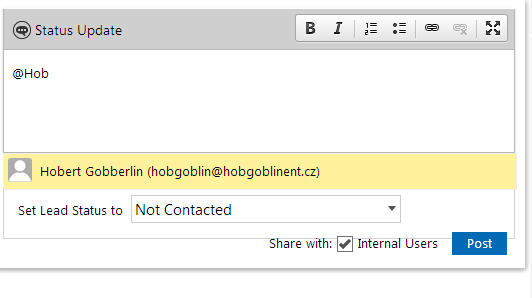 Commenting When Posting Updates
Need to add some more specific comments for colleagues when posting Task or Call activity to the Update Stream? BlueCamroo now enables Comments in the Task and Call Progress dialogs, and when creating a new Task or logging a new Call.
Posting Updates to a "Parent" Stream
Prior to this release, updates posted about Opportunities, Cases and Projects were only posted to the particular activity's Update Stream. Now BlueCamroo lets you post to the Update Stream of the activity's "Parent" — such as an Organization, Customer, Lead, etc.
Editing an Update You Just Posted
Forgot to add something to your update? Made an error? Your posts to the Update Stream can now be edited within five minutes of posting.
Post Pre‐Existing Items to the Update Stream
If an item already recorded in the system is relevant to what you and your colleagues are working on right now, you can also choose to post that item to the Update Stream.
Enhanced Task Progress Display
When viewing a Task's Progress page, information is now presented in a similar style to BlueCamroo's Update Stream. This approach lets you quickly see details about progress without having to open up the actual Task Progress record. When you click to Add Progress to a task, it has a similar design to posting to the Update Stream.

Improved Call Logging
Often, communications with clients involve multiple phone calls with a number of different people. Until this release these Calls could only be viewed one at a time. To make Call Logs more accessible and informative, we've extended the easy‐to‐follow Update Stream style to the Calls page, where you get a quick and informative summary of Calls made or still to be completed for that record.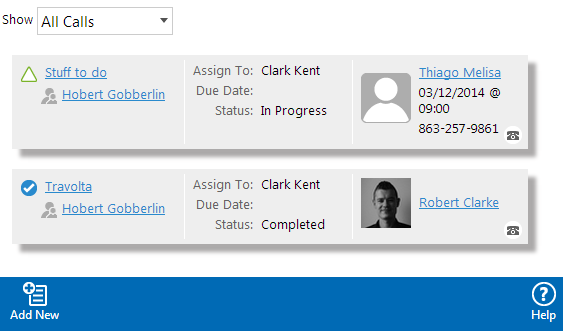 Each Call summary tells you who to contact and a link to their record in the system. Drill down into a specific Call Task to see the Call's Progress page to log Calls and post Updates.
Notifications

BlueCamroo now features Notifications icons on the right side Dynamic Breadcrumb Bar (below the Quick Search field) that alert you when you have new important items that need your attention. The icons are initially greyed out, but light up when you receive a Notification.
Notifications are available for the following:
Updates and Comments
New Emails
Leads
Cases
Reminders – calendar events and tasks
General Notifications
Updates and Comments, Emails and Reminders generate Notifications automatically. Notifications for Leads, Cases and other objects can be customized for different user needs by a BlueCamroo administrator using the Workflow Rules found under Automation in the System Setup menu. Administrators pick a Trigger event to send a Notification to users when specific Criteria are met.
Choose Columns to Appear in Views
BlueCamroo administrators can now define which columns users see when viewing lists of records, in what order they appear, and the default sort order for records. The simplified drag and drop approach is similar to how you build reports in BlueCamroo. Categories of views that can be edited include:
Leads
Customers
Suppliers
Organizations
Opportunities
Projects
Cases
Administrators can tweak these settings in the Setup menu under Editable View Layout.

HubSpot Integration
This release integrates the lead capturing tools of HubSpot with BlueCamroo's excellence in CRM to close the loop between lead generation and customer conversion.
Hubspot integrations offers users the benefits of closed-loop marketing:
Automated transfer of HubSpot leads into BlueCamroo
Use of BlueCamroo's tools to qualify and convert leads
Customer conversions reflected back to HubSpot for marketing analytics
Setting up HubSpot integration in BlueCamroo is easy.
Download out HubSpot integration guide to get started.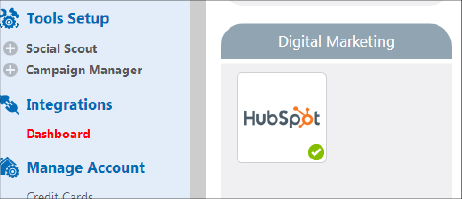 Save Search as a View
Creating a Search and creating a View have always been similar. Now, whenever you use the Search Dynamic Breadcrumb, you can save that search as a customized view. Simply click the Save Criteria as View button now included on Search dialog screens.

Transferring "Lead" Status
Do you sometimes enter people as new Leads in BlueCamroo before you have the name of the company they represent? If so, you'll appreciate this change: BlueCamroo now gives you the option of transferring Lead status from a Person to an Organization when you subsequently add the Organization to their record. Previously, separate leads had to be created for Person and Organization if you didn't enter an Organization name when you created the lead. You can also join a new Person Lead to an existing Organization Lead, or choose to keep them as two separate leads.
User Comments