BlueCamroo Release Notes 6.1.0
What's New in BlueCamroo?
We've been busy adding new functionality to existing features based on your feedback. These are Quality-of-Life improvements, meant to make your workflow that much easier.
In this release, you'll find improvements to just about all areas of BlueCamroo. Nearly all of these were developed based on user feedback.
If you have any questions, ideas, or suggestions, please reach out to us at support@bluecamroo.com and we'd be glad to discuss these updates or future ones with you.
Key:

New Feature

Change to Existing Feature

Setup Instructions
Delayed Triggers for Workflow Rules
BlueCamroo's Workflow Rules are already quite powerful, allowing you to automate multi-step processes for sales or create a complex support ticketing system. We've added a new Trigger option, the Delayed Trigger, that will allow you to more precisely determine when a rule runs.
This is in absolute time, and it doesn't respect work hours or the weekend.
We suggest increments of 10 minutes at least to give our workflow engine time to schedule things properly.
You can of course find this in System Setup > Automation > Workflow Rules.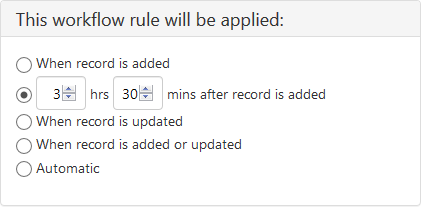 Searchable Products
Now, when you're adding a Product to a Sales Quote or an Invoice, there is an option to simply begin typing instead of scrolling through the dropdown list. This will filter the items in the list for you to make it easier to add new items if your Products and Services list is long.
Stage Templates, Recurring Stages, and Recurring Stage Tasks
We continue to hear great feedback on BlueCamroo's Project Management functions. Our newest and some of our oldest users have approached us ideas on how to make the system work better for them.
Stage Templates
Project Templates allow you to predefine Stages, the Tasks within, and even Team Members and Products. You can create as many as you want, creating sub-variants and specialized versions of more generic Project Templates and even then you may need a unique mixture of Stages from different Project Templates.
To save you from manually recreating each Stage we've added Stage Templates.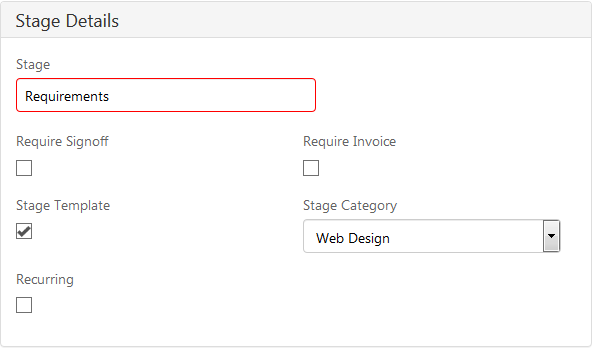 Stage Templates - Setup
There are just two steps required to get started.
1.
Go to System Setup > Lookup Values > Stage Template Categories and add at least one.
2.
Create a new Stage or modify an existing one by checking off the Stage Template option and choosing a Stage Category
3.
(Optional) You don't have to use Project Templates at all. You can simply go to System Setup > Automation > Stage Templates and click on Add New at the bottom. You'll need at least one Stage Template category ahead of time, however.

Recurring Stages and Recurring Stage Tasks
This release we have added two new Recurring features; Recurring Stages and Recurring Stage Tasks.
Recurring Stage Tasks are just like normal Recurring Tasks, allowing you to set when and how many times a Task should recur after marking it complete.
A Recurring Stage will automatically recreate itself within the same Project after that Stage's Status is set to Completed. The newly created Stage, with all of its Tasks, will be automatically made dependent on the previous one.
Contact Roles for Cases
Contact Roles for Cases will allow you to add more Contacts from the same Customer (after the Case has been created).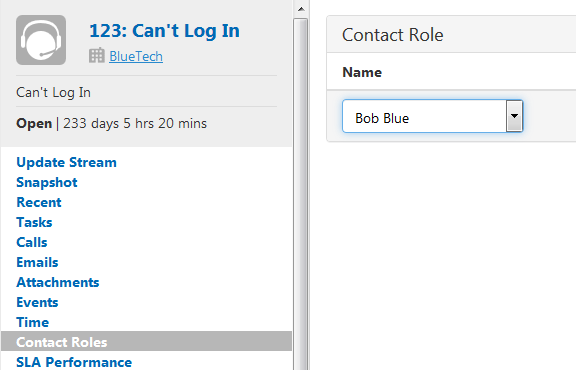 All Contacts added to a Case will receive all communications through the Update Stream that is marked as Shared With Customer (with the email ticketing Workflow Rules active). They will also be able to post through the External User Portal.
This will also work automatically. Say if a single Contact in your Case replies to the email (sent via Workflow Rules) and adds other team members as recipients. As long as those team members are already Contacts within your Customer record then they'll be added automatically as Contacts for the Case too.
A warning will appear if one or more of the Contacts for the Case does not have an email address in their Contact details and 'Shared With Customer' is selected.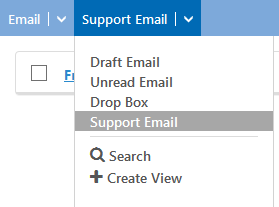 Unknown repliers will have their emails sent to the Support Email section where there are tools to handle adding them into your system.
Hybrid Case and Update Stream Report
When creating a new Case Report you will now have the option to select Status Updates under Sub Section. Currently, this is only available for Case Reports.

You'll be able to choose fields from both Cases and Update Streams to display but only Case fields are available for queries. This way, you'll be able to report on the whole picture.
In Mailing List
In Advanced Search and inside the Email Marketing module's Lists you now have access to the In Mailing List field. This returns whether or not a Person has unsubscribed (or had never been subscribed) to email marketing.
FreshBooks Integration
In addition to QuickBooks, QuickBooks Online, and Xero we've added FreshBooks to our list of integrated Accounting applications.
This will function similarly to our other Accounting software integrations: Invoices will be synchronized when they are first sent out from BlueCamroo and those Invoices will be updated once the full payment is entered in BlueCamroo.
You'll find this in the Integrations Dashboard in your Setup.
All you need to do is click Activate and log into your FreshBooks account.
We hope you find these new features helpful. If you have any questions about implementing them, or if you have any suggestions or comments, please send an email to support@bluecamroo.com. We'll be glad to help!
The BlueCamroo Team
User Comments