It's Here! Introducing BlueCamroo's Powerful
Website Builder - Release Notes 6.2.0
What's New in BlueCamroo?
We are officially launching the BlueCamroo Website Development Platform (WDP), a modern world class system that will help you build and manage websites for your company or your clients. In addition, a direct connection of WDP with BlueCamroo Projects enables coordinated and efficient web projects delivery. All of this is included in your subscription. If you have any questions, ideas, or suggestions, please reach out to us at support@bluecamroo.com and we'd be glad to discuss these updates or future ones with you.
Key:

New Feature

Change to Existing Feature

Setup Instructions
The Website Development Platform
The Website Development Platform (WDP) is a legacy product developed exploiting knowledge and experience that we acquired from Voloper OpenSites WDP and the VGM eCommerce platforms.
OpenSites WDP and VGM have been used since 2002 to build over 12,000 websites and eCommerce stores around the globe and it still being used today.
The WDP is not only a website builder, it also allows you to host, manage and connect websites to BlueCamroo's Projects. The WDP is also the first, and very important step, in expanding BlueCamroo marketing capabilities.
For us connecting WDP to the BlueCamroo Business Management Platform was paramount. For the past year the WDP has existed in BlueCamroo, already serving a number of our customers, but we have been building on it to make sure that it is a system that not only builds websites, but also can help you run your business.
This is the first step of our new strategy that we are rolling out. The next steps include adding Business Intelligence capabilities that will feature Lead Scoring, our own web analytics to fully exploit data collected analyzing behavior of standard and eCommerce websites visitors. Most importantly, the ability to connect to Person records on BlueCamroo and set up Automated Workflows to help you automate your marketing strategies.
We are also will be adding a chat feature that will allow you to interact with your website's visitors, track live their activity and behavior on the website and connect to BlueCamroo's CRM and Support Ticketing system.
Big things are on the horizon and we're looking forward to reaching them with you.
WDP Dashboard Features
Your Dashboard will show you a complete view of your websites and their status. You will be able to see your websites in development, live websites, view and pay your hosting invoices. The WDP will allow you to:
1.
Unlimited Websites – You can build as many websites or Landing Pages as you need. Our websites are modular so you can add the modules you need. All you need to pay for is hosting with BlueCamroo (Hosting Options on page 2).
2.
Connect your Websites to Projects – You will also see open projects that are connected, as well as how much their worth and how much has been paid by the client.
3.
Connect to Google Analytics - You will be able to view a number of base reports on BlueCamroo to make sure your websites are performing well and to notice any red flags.
4.
Manage your Hosting - You will be able to see your website's current usage as well as the full usage history.
5.
Private SSL Certificates - SSL Certificates offer website visitors a more secure experience. Which is why Google has announced websites with SSL certificates will receive a rankings boost.
You will be able to create the .CER files needed to apply for an SSL Certificate and once you have been approved you can install them from the WDP dashboard.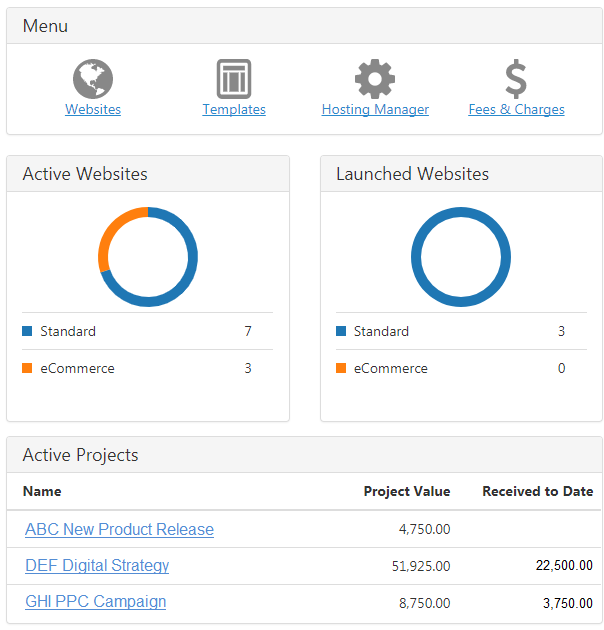 New Help pages have been added to guide you through all the new features.
World Class Modules for your Websites
Every BlueCamroo website comes with three core components:
1.
CMS - Will allow you to manage all the content on your website.
2.
WDP Framework - Controls Templates, Pages, CSS, Forms, Customer Database, Users, and more.
3.
Site Search - Will allow visitors to search through the content of your website.
From those core components you will be able to add any of BlueCamroo's Website Modules for no additional charge. We have added: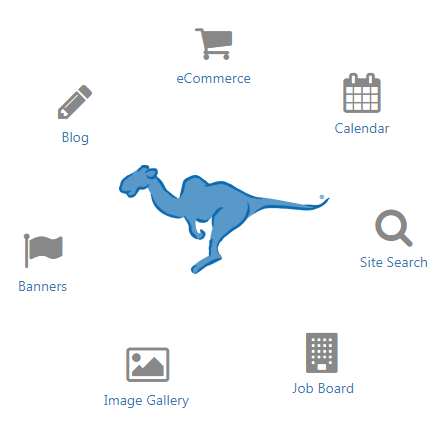 1.
eCommerce - Building an eCommerce website requires a lot of moving parts. From organizing your products and categories, to securing clients' information is secure, to shipping your products. Our eCommerce module will help you run your store, and BlueCamroo will help you run your business.
2.
Blog - Content is still king in the online realm, and blogging is still the best way to regularly share new content. Our module will allow you to share your content plan efficiently and regularly. Including pushing your content to Social Media networks.
3.
Image Gallery - A picture says a thousand words, and a picture can grab your attention in ways that words cannot. BlueCamroo's responsive photo gallery will allow you to show your images in either a slider or in thumbnails.
4.
Event Calendar - Highlight your upcoming events and invite your website visitors and clients to attend. Promote your events via your website; you can have a detailed calendar that will allow visitors to see and learn more about your events. Or you can make your calendar private for internal users only.
5.
Banners - Too much information can be a bad thing, especially when you have limited space to display it. Banners allow you to have a placeholder where you can have interchangeable information that changes every time the page is refreshed. Say you have 50 great testimonials in your review page but you only have space for one in your home page, a Banner will allow you to cycle through them.
6.
Job Board - Any company is only as good as the people who work for it. Being able to promote your available positions through your website is a huge advantage, especially if you're able to use a database of applicants to sort through and find the right person for your company. Hire just the right people by posting your job openings on your website and allow applicants to apply online.
WDP Workflows and Help Pages
Within BlueCamroo and WDP Websites you will find help pages to help you navigate throughout the back end of your website.
On the Action Bar at the bottom of back end you will see a Help Button

, just click on it and a Help Page will pop open that explains what is on the page you are on.
For more guidance on specific tasks such as setting up your Blog Module, or Importing and Exporting your product catalog in the eCommerce module we have also created workflows to guide you step by step to success!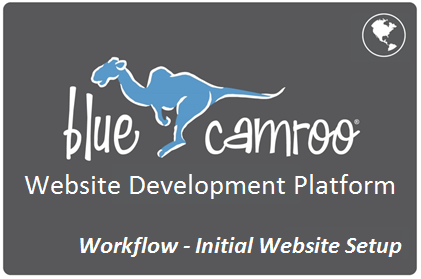 To access them you can find them in the PDF Guides section of BlueCamroo help or in the Main Admin section of a WDP website back end, just click on the Guides button

on the Action Bar.
Hosting Options
We are offering 3 levels of state-of-the-art hosting:
1.
Level 1 – Includes 1 GB of Disk Usage, 100 MB of Database Usage, and 1 GB of Bandwidth per month all for $10/month.
2.
Level 2 – Includes 5 GB of Disk Usage, 500 MB of Database Usage, and 5 GB of Bandwidth per month all for $15/month.
3.
Level 3 – Includes 10 GB of Disk Usage, 1 GB of Database Usage, and 10 GB of Bandwidth per month all for $20/month.
WDP Demos
The WDP is a comprehensive tool and while we have built learning facilities, there's no substitution for a personal presentation that can show you the full capacity of the system.
This is why we are offering Demos of the WDP to our clients. To set up your demo email us at wdp.demos@BlueCamroo.com and we will book a one-hour GoToMeeting session for you.
below here
We hope you find these new features helpful. If you have any questions about implementing them, or if you have any suggestions or comments, please send an email to support@bluecamroo.com. We'll be glad to help!
The BlueCamroo Team
User Comments