Enhanced Visual WorkBench and Project
Timelines - Release Notes 6.3.0
What's New in BlueCamroo?
One of the most important tools in a Project Managers toolbox is a Project Scheduling & Planning tool. BlueCamroo offers users this functionality in a few different forms: The Timeline, Visual WorkBench, and Stage views.
In this release, we wanted to improve the Timelines and Visual WorkBench to make it easier for Project Managers to have a clearer view of their entire project. This will help them in all phases of managing their projects from Planning, to Execution and Monitoring, as well as managing change.
Key:

New Feature

Change to Existing Feature

Setup Instructions
Full and Minimized Visual WorkBench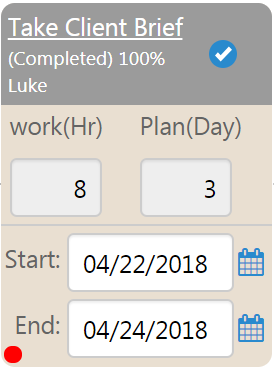 The BlueCamroo Visual WorkBench was created as an improvement upon PERT charts in Project Management. We wanted to provide Project Managers with a clearer view of projects, giving them more flexibility over all stages of their projects.
The Visual WorkBench has become the preferred project planning tool for many of BlueCamroos users, and we were happy with how it has been able to help them.
In this release, we wanted to make some improvements to the Visual WorkBench to give users multiple views, depending on what their requirements are: the Full View, and the Mini View.
The Full View is the existing view of the Visual WorkBench that users are used to using. It shows the full Flowchart/Network Diagram view of the entire project, displaying the beginning of the project, Stages, Tasks, as well as their dependencies, etc.
For the Full View, we wanted to provide Project Managers with more information about the status of tasks within their Projects. We added the name of task assignee, as well as the percentage completion of the task. These additions will help Project Managers in the Execution and Monitoring phases of their projects.
The Mini View of the Visual WorkBench is a new feature aimed at providing Project Managers with a more condensed view of their Projects. The Mini View does not have any editable fields but still displays all of Stages (and their Dependency relationships) and important dates of projects, except hides all tasks. In their place, each stage displays how many (if any) tasks are in conflict, providing users with a link which will expand to Full View and focuses on the tasks in conflict.
You can access these views from the top section of the Visual WorkBench. The Full view can be accessed by clicking

, and the Mini view can be accessed by clicking

. Below is the mini view, but if you click on it you will see the full view.

Updates to Project Timelines
The Project Timeline has received a visual overhaul. We wanted to make it easier for Project Managers to gather important information about their Projects when using the Timeline.
Here are some of the highlights of the changes we made:
The left-side table displaying Stages and Tasks has been removed in favor of showing them in the Timeline bars.
A greater focus has been made to display Stages and their dependency relationships, as well as the Tasks and their own dependency relationships as well.
Task assignees and completion percentages are displayed.
We hope you find these new features helpful. If you have any questions about implementing them, or if you have any suggestions or comments, please send an email to support@bluecamroo.com. We'll be glad to help!
The BlueCamroo Team
User Comments