Sales Dashboards and New Languages -
BlueCamroo Release Notes 7.1.0
What's New in BlueCamroo?
Our previous release was our New User Interface. In it we focused on making BlueCamroo a more intuitive platform to use. In this release we focused on Sales Dashboards, making BlueCamroo not only more powerful for Sales Teams giving a centralized point of information.
Key:

New Feature

Change to Existing Feature

Setup Instructions
Sales Dashboard
Every business is powered by sales, there's no way around that. A sales dashboard gives your sales team one place where they can oversee their sales performance.
With the addition of the Sales Dashboard, administrators can now assign the roles of Sales Manager and Salesperson. Each will have their own dashboard but the Sales Manager can set Sales Quota and Bonuses from their own dashboard.
Sales Manager Dashboard
A Sales Manager is concerned that his team is performing at a high level, that they can track their performance not only as individuals but as a team. The Sales Manager Dashboard tracks the performance of the Sales team.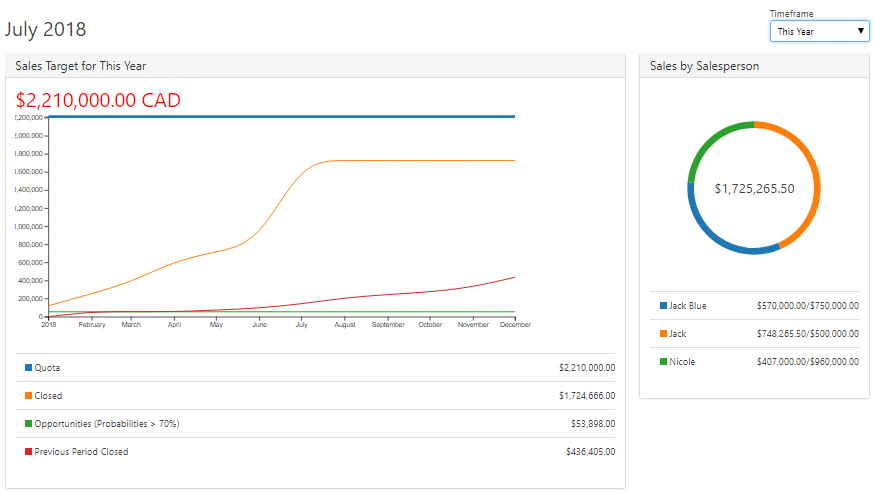 The dashboard also breaks down each individual team member's performance. Inside the Team Member Reports Managers will see a more detailed breakdown of the numbers, as well as being able to set a 2 stage sales bonuses.
Salesperson Dashboard
In several sections that have a list of records, a new Preview button has been added. When you mouse over a specific record, a Preview button will appear next to the record name.
Clicking on it will open a Preview Pane on the right that has been customized for each type of record. This Preview Pane will allow you to quickly see important information (and take some actions) about that record without having to leave the list. For example, a salesperson can quickly cycle through a list and log calls in a more efficient way.
BlueCamroo in Español or Français
You are now able to operate your own BlueCamroo workspace in English, Spanish or French. To update your workspace you navigate to the Setup Area

. Once there go to the Personal Setup > Personal Information section and scroll to the bottom. You will see a box titles Regional Settings.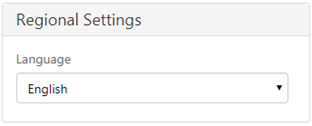 Once you've selected your Language you will have to log out and log back in for the change to occur. The system will be in your new language except for Look Up Values, which need to be updated manually by an Admin.
New BlueCamroo On-Page Walkthroughs
You will notice once you log into your BlueCamroo Workspace that a pop up will appear walking you through the Sales Dashbaords and the Language Settings. This is a new feature we are populating for a full release in our next Release Notes. Users will learn BlueCamroo in an easier way that shows them how to use the system on screen. You will see a new icon

on the top bar to the left of the search bar that will have all the available walkthroughs for the page you are on.
We hope you find these new features helpful. If you have any questions about implementing them, or if you have any suggestions or comments, please send an email to support@bluecamroo.com. We'll be glad to help!
The BlueCamroo Team
User Comments