Profit Margins & Update Stream Search -
BlueCamroo Release Notes 7.1.1
What's New in BlueCamroo?
Our previous release was our New User Interface. In it we focused on making BlueCamroo a more intuitive platform to use. In this release we focused on Sales Dashboards, making BlueCamroo not only more powerful for Sales Teams giving a centralized point of information.
Key:

New Feature

Change to Existing Feature

Setup Instructions
Track Your Projects' Profit Margins
BlueCamroo now tracks the profit margin of each project. Each project's profit margin will be displayed in the Project Snapshot.

You will also see what the estimated Profit Margin was at the beginning of the project. Each individual Profit Margin will also be tracked in the Project Dashboard. The Budgeted Profit will be based on Cost Estimates and Project value. Actual Profit will be Payment Received compared to Project Expenses.
The Project Dashboard also tracks the Average Profit Margin for all completed projects.

Update Stream Search
The Update Stream captures any update that has been done to a record. It gives users a place to be updated by everyone on the team on updates. Now you can go back and run a search through Update Streams instead of going to the record and scrolling through until you find what you were looking for.
On the top Search Bar drop down you will now see the option for Update Stream.

Selecting the Update Stream option will automatically take you to an Advanced Search page where you can define what Record's Update Stream to search.
To search within a specific Record, first select an Object Type, and then Add Criteria and select an Object Record Name.
Dashboard Timeframe
In our last update we introduced the Sales Dashboards. Inside those dashboards you could select different timeframes, from this month to this quarter or this year.
We are now extending that function to all of our dashboards:
Leads
Opportunities and Sales
Projects
Cases
You will see a new drop down menu option on the top right of every dashboard where you can select your timeframe.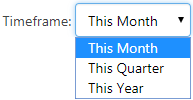 New Field Type – Numbers
BlueCamroo Users can now define Extra Fields in a record as a Number. This will allow them to search for those values later as you would a number.

When you are creating Extra Fields in the Setup Area

the Number option will appear on the Field Type section.
We hope you find these new features helpful. If you have any questions about implementing them, or if you have any suggestions or comments, please send an email to support@bluecamroo.com. We'll be glad to help!
The BlueCamroo Team
User Comments