Slack Integration & Email Workflow Automation -
BlueCamroo Release Notes 7.1.2
What's New in BlueCamroo?
This Version 7.1.2 release adds a new partner to our integration list, Slack. Slack is a collaboration tool that allows teams to chat on specific topics, projects, leads etc. Our integration will allow users of Slack to connect to our powerful CRM and Workflow Automation Engine. Speaking of our Workflow Automation Engine we are adding new Email Workflow Rules that can enhance your automation.
Key:

New Feature

Change to Existing Feature

Setup Instructions
Slack Integration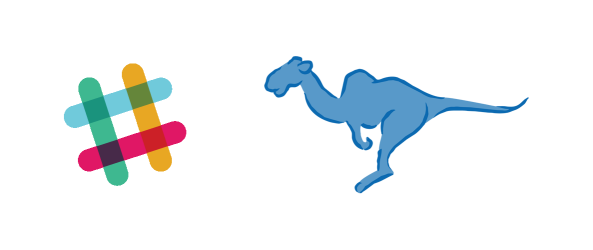 A Slack Integration has been one of the most popular requests by you, our clients. Initial plans for it were actually put aside as we were receiving feedback. Thank you for responding to our request for comments and helping make BlueCamroo better.
The first thing we added was the ability to receive your BlueCamroo notifications as Direct Messages in Slack. This is optional for each BlueCamroo user.
Secondly, we tried to strike a balance between spamming your Slack channels with record-specific notifications. So we created a list of the most common activities in BlueCamroo that would be helpful to see in Slack.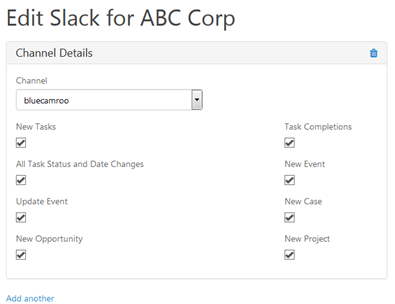 Then you'll be able to set which activities in BlueCamroo will show up in a Slack channel of your choice. If you have a dedicated channel just for Projects and one specifically for one Project, you can set both channels to receive pertinent updates.
Finally, we added the option to have default channels for the creation of new Cases, Opportunities, and Projects.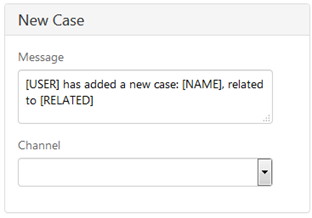 This way you can have a dedicated Slack channel for Cases without having to manually go into each new Case and add that default channel.
We hope to hear more of your feedback and your ideas on how we can further improve on this integration.

Setup: Slack Integration
You'll find the new Slack integration in Setup > Integrations > Dashboard, under the new Collaboration section.
Only one BlueCamroo user is needed to activate the Slack integration for your business' account. After activation, BlueCamroo users can opt into receiving Direct Messages for notifications.
New Workflow Rule Type - Emails
Another long-standing and often requested feature was to expand our Workflow Rules to include Emails. This includes replies to your emails sent from BlueCamroo.
We've been working behind the scenes to make this possible as emails are somewhat standalone from the rest of BlueCamroo. This is the first step towards hopefully more automation options in the future.
These rules are available to Organization, Opportunity, Project, Sales Order, and Case workflow rules. These rules will also have access to that object's Extra Fields and Extra Data Objects. Further work is needed to add the detail fields.
We hope you find these new features helpful. If you have any questions about implementing them, or if you have any suggestions or comments, please send an email to support@bluecamroo.com. We'll be glad to help!
The BlueCamroo Team
User Comments