New Integrations With GoToMeeting, OneDrive
& ShareFile! BlueCamroo Release Notes 7.1.3
What's New in BlueCamroo?
This Version 7.1.3 release adds three new partners to our integration list, GoToMeeting, OneDrive and ShareFile. GoToMeeting is the most popular meeting software in the world and BlueCamroo users can now create meetings directly in their workspaces and attach them to Events. OneDrive or ShareFile users can now save and access their files in BlueCamroo from a shared Business Account or connect to their Personal accounts.
Key:

New Feature

Change to Existing Feature

Setup Instructions
GoToMeeting Integration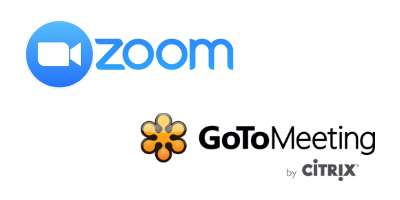 In the 21st Century, online meetings have become a crucial part of business. With the internet you have access to people anywhere in the world.
Our GoToMeeting Integration allows users to easily create meetings directly in BlueCamroo and send out the meeting details. You can connect multiple GoToMeeting accounts to your workspace.
Once you have activated the integration, using it is quite simple. Schedule an Event, enter the name of the event, select the Time and Date, and pick the attendees.
In the new Communication section, select the GoToMeeting accountand click Create Meeting. This creates the event in your GoToMeeting account and populates the Event's Description with the GoToMeeting Details. Then all you have to do is send the Event Invitation and your guests will receive the GoToMeeting details.

Setup: GoToMeeting Integration
You'll find the new GoToMeeting integration in: Setup > Integrations > Dashboard.
Connect as many GoToMeeting Accounts as required. All users will have access to any GoToMeeting account that has been integrated.
File Sharing Integrations

BlueCamroo users were already able to use Box, Dropbox and Google Drive to expand their workspace's storage and easily save and share files. We now integrate with Microsoft's OneDrive and Citrix's ShareFile.
After adding one or both of these accounts, you can access them via the Main Navigation Panel, under the Library area. Also, if you access an organization or person record's Summary Pane's Attachments section, BlueCamroo will create a folder for that record and its sub-records (like opportunities or projects) on your OneDrive or ShareFile account.


Setup: OneDrive & ShareFile
Administrators can connect a companywide account under: Setup > Integration > Dashboard.
Or Users can connect their own personal accounts under: Setup > Personal Setup > My Integrations.
.
We hope you find these new features helpful. If you have any questions about implementing them, or if you have any suggestions or comments, please send an email to support@bluecamroo.com. We'll be glad to help!
The BlueCamroo Team
User Comments