Announcing
BlueCamroo 8.0

- New Decade, New BlueCamroo, New Business Model

Over the past year we have been working on a brand new version of BlueCamroo that not only includes a new sleek User Interface with increased user-friendliness, but also a brand new pricing model that gives our subscribers the flexibility to only pay for the features each user needs. Introducing BlueCamroo 8.0

Key:

New Feature

Change to Existing Feature

Setup Instructions
New Layout
We have done a complete overhaul of BlueCamroo's layout to make all the information flow in a more natural way. Our main navigation menu has been moved to the top bar.

The Quick Action is also on the Top Bar next to a revised Quick Search function. Your User Name will open up the User Menu which has new options, including a Support Button where you can quickly open a support ticket with our Support Team, and some shortcuts to some setup areas.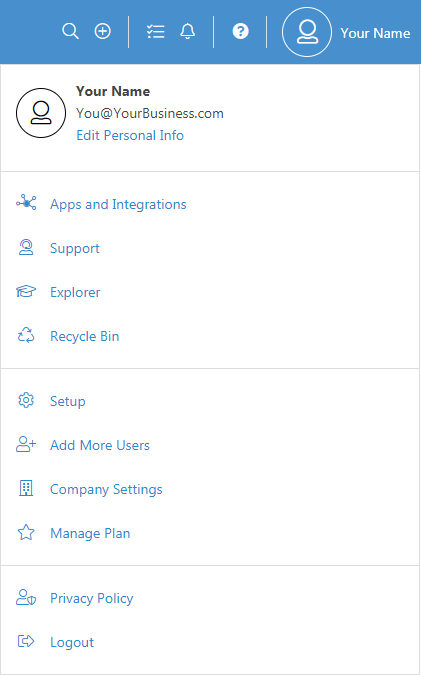 All the information in BlueCamroo is now even easier to get to and the flow of information is streamlined.
Internal processes have been redefined and all Record Pages have also been redesigned. You will notice the Record Navigation menu has been split up into two areas: a new top menu, which shows the common sections throughout most records, and the Record-Specific Tools Panel on the right that shows sections and tools, here you can see previews of the information in that section without having to navigate there.
The action bar has been removed and action button have been relocated to a more natural places throughout. This combined with moving the navigation has cleared up a lot of space for what's important, your data.
The Setup area has also been reorganized. Personal, Company and System Setups are all still visible, however Function Setup have been categorized into 4 sections that line up with our New Business Model: CRM, Sales, Projects, and Support.
We have also updated the look on many of our unique tools such as the Visual Workbench for Projects which you can see below.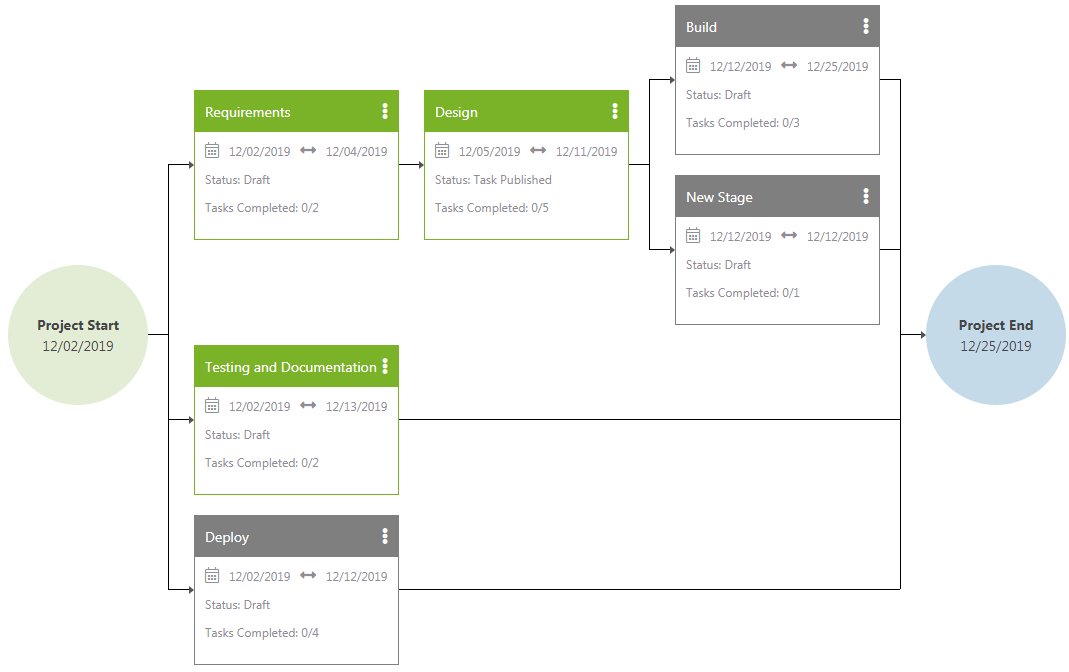 New Home Page
While a lot of our focus updating the new UI was reorganization, the Home Page has been completely redesigned. Here, you will see three distinct panels that can help you quickly see what records have been worked on as well as what needs your attention as soon as possible.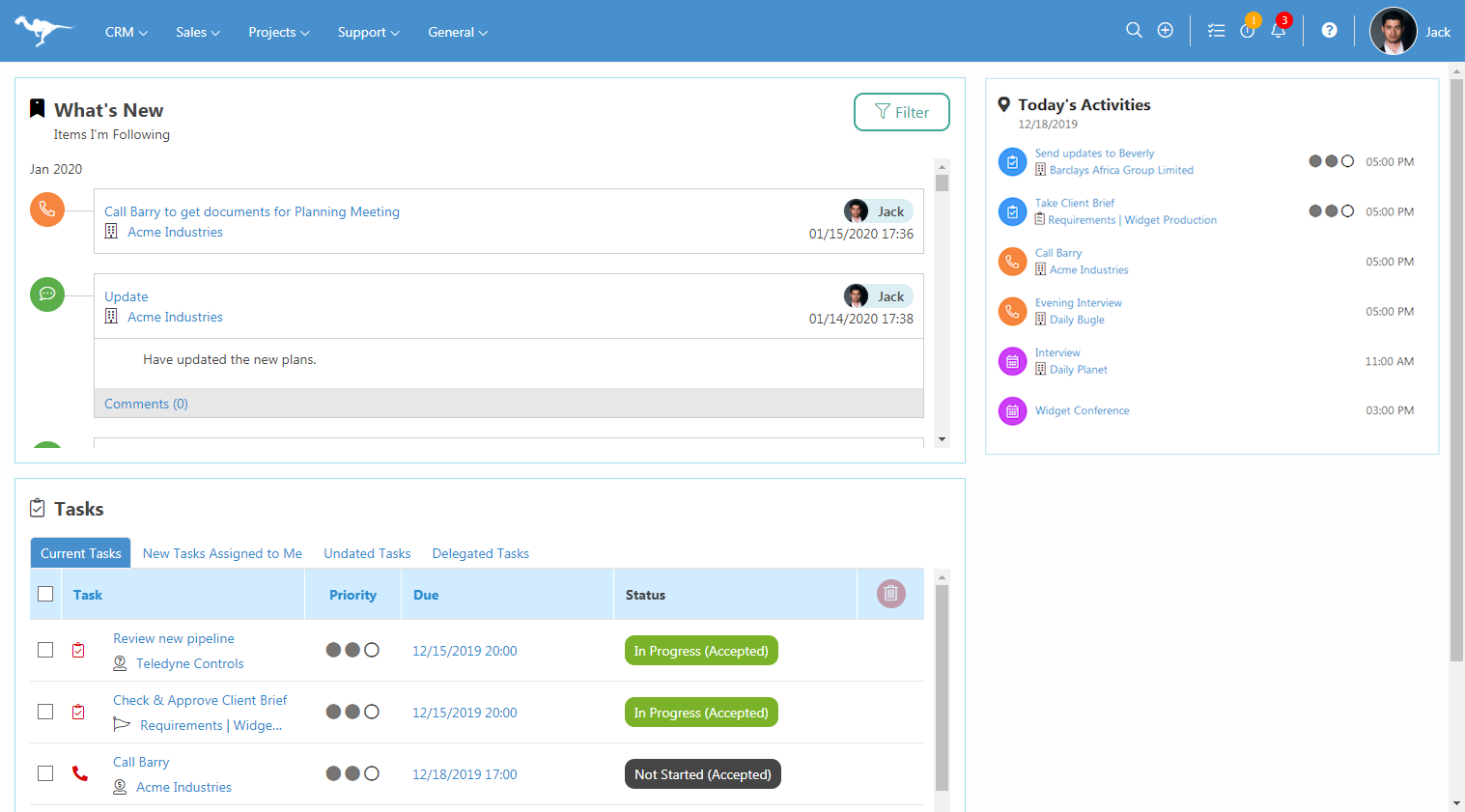 The New Sections are:
What's New displays any recent addition to the records that you have "Followed" . If there has been anything added to the Update Stream, whether it's an Update, Task, Call, Email or Event it will appear here. You can now also narrow down what you see on the What's New list as well as any Update Stream with our new Filter Button.
Tasks organizes the most common task views in one section so you can quickly go through them and adjust them quickly. We have also added Status tags and Priority so you can quickly see where all your tasks stand with a quick glance at the list.

Today's Activities will show you any activity you have scheduled for that day. You will quickly be able to see any Task that are due, as well as any Calls or Events scheduled. As soon as you log in you will have an idea of what awaits you that day.
BlueCamroo New Business/Pricing Model
As a BlueCamroo user you appreciate that it is a unique fully-integrated Business Management Software built for small-and-medium businesses. What we realized over the years serving our customers is that the needs of our typical customer are quite different.
We listened and took action! Meet the new approach to the customer-centric business software.
BlueCamroo 8.0 is a distinctive solution that is capable enough to power your entire business, yet flexible enough to allow you to choose and pay for only the features that your employees actually need to fulfill their job requirements. This is possible with our unique User-Role based subscription model.
BlueCamroo was built from the ground up as a single integrated solution, instead of designing and developing stand-alone modules and then bolting them together. Our approach ensured that our solution is cohesive even when split up, giving senior management transparency throughout the business and users a unified solution to increase their productivity. You've experienced this first-hand, as a user.
However, what truly sets us apart is the fact that we fully embraced that the one thing all businesses have in common is that they all have clients and they all want to do a better job of serving them. That means a CRM is an invaluable asset to any business, and the reason we decided to make it the base-foundation for our entire platform. We also made it Free for 4 users! Always!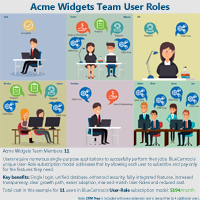 A business can start by implementing CRM Free first and, when ready, add more users adopting paid extensions, while still retaining 4 CRM Free User-Roles. That is due to fact that any paid User-Role retains CRM Free functionality, but does not count toward the CRM Free user limit. In fact, all BlueCamroo users in the business will always have access to CRM Free features.
So, if your organization structure is straight forward you can choose User-Roles individually for each employee. However, if you have users, like most businesses, that wear 'multiple hats' with BlueCamroo 8.0 you can easily mix and match multiple User-Roles to be assigned to an employee, and only pay for features your business uses, and save cost.
Visit our new pricing page for more information on what is included in BlueCamroo 8.0, how the subscription is structured and better yet, try it out for yourself. Due to extensive system architectural changes we will be updating each customer individually, and we will be contacting you to schedule a date to convert your workspace to BlueCamroo 8.0.
We hope you find these new features helpful. If you have any questions about implementing them, or if you have any suggestions or comments, please send an email to support@bluecamroo.com. We'll be glad to help!
The BlueCamroo Team
User Comments