BlueCamroo 8.3.5 - Phase 5 of Major Sales Update - Sales Forecasting
Building upon the new Sales Pipelines added in the last release, this update adds yet another highly requested feature to BlueCamroo: Sales Forecasting. Exclusive to the Sales & Marketing extension, Sales Forecasting is a powerful tool for any business, enabling Salespeople, Managers, Directors, and Executives to gain insight into potential future sales, allowing them to make better informed sales decisions.
Key:

New Feature

Change to Existing Feature

Setup Instructions
Sales Forecasting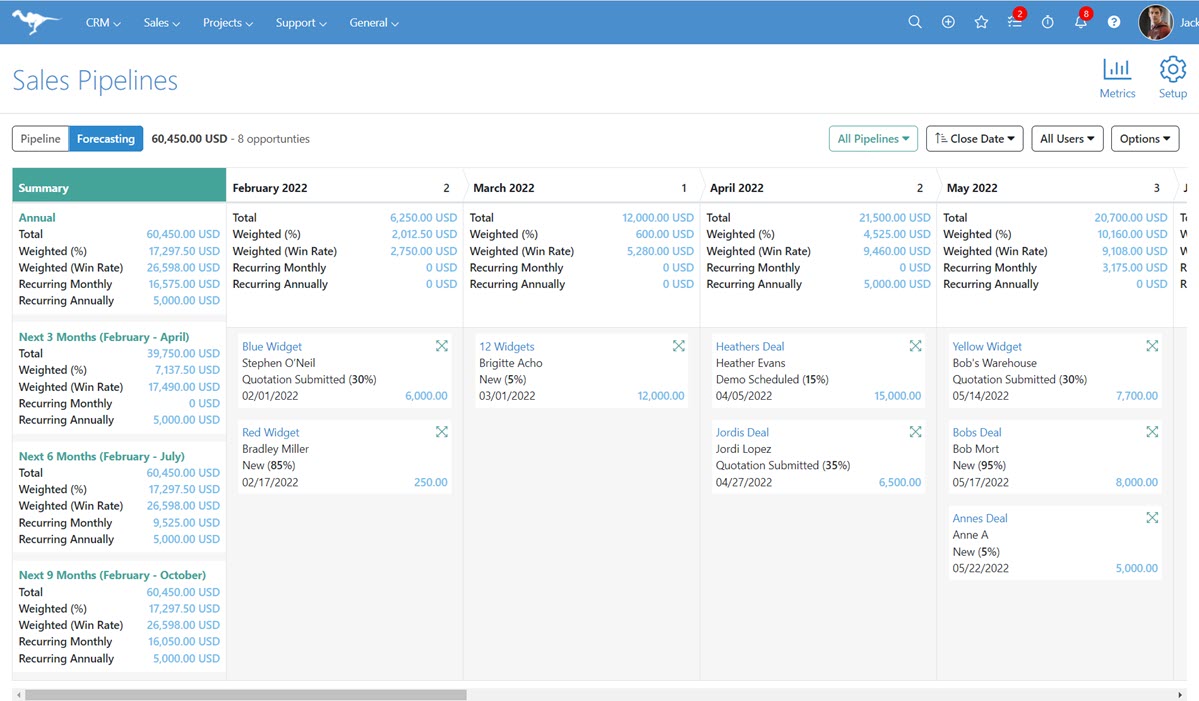 Sales Forecasting is an important tool that can benefit any business that has sales. Its primary purpose is to help sales teams predict future sales using the Opportunities within their pipelines.
This information is essential to users throughout the organizational hierarchy:
Sales Reps can see how they are projecting towards meeting their quotas.
Sales Managers can forecast the sales that their team will close to make more informed business decisions on how to manage their teams.
Directors can use forecasts to anticipate department sales.
The VP of Sales can use forecasts to project sales throughout the entire organization.
The information can be shared with leadership, board members and/or stockholders.
Sales Forecasting in BlueCamroo shows potential sales for the next 12 months, organized in to each month by using Opportunities estimated close date.
This new feature is available for all Sales & Marketing users and can be accessed by navigating to Sales > Sales Pipeline from the main navigation bar, and selecting Forecasting from the toggle bar

.
Note: If you are a new to BlueCamroo, while BlueCamroo already comes pre-loaded with Opportunity Phases, it does not come with any sales Pipelines, you will want to create one to get the most out of the Sales Forecasting feature. You can easily make your own by either clicking on the

button from the Sales Pipelines section, or by clicking on your user menu and going to Setup > Sales > Sales Pipelines.
Opportunities in Sales Forecasting can be sorted so that the most 'important' ones can be seen at the top. Sales forecasts are also easily customizable enabling users to either have a broad view to see all Opportunities throughout the organization, or to narrow the view by specific Pipeline or by specific User or Group.
The total number of Opportunities and their value in the next 12 months can be seen at the top of the forecast view. This is further broken down below for each month, containing the Opportunities with expected close dates within that month. Here, users can see the total number of Opportunities, the estimated value of Sales (displayed in several ways), as well as each individual Opportunity along some key details.
The actual estimated value of sales from the forecast are displayed in several different ways (Note: all of these values are displayed by default, but can be adjusted using the

menu):
Total: The total value of Opportunities in the month with no adjustments.
Weighted (%): The value of the Opportunities in the month adjusted by their Probability.
Weighted (Win Rate): The value of Opportunities in the month adjusted by the win rate for the selected Pipeline/User/Group over the last year.
Recurring Monthly: Displays the amount of expected sales from Opportunities which have monthly recurring items in an existing Sales Quote.
Recurring Annually: Displays the amount of expected sales from Opportunities which have an annually recurring items in an existing Sales Quote.
The Summary Column on the left side shows the projected sales estimates over four different time intervals: Annual, Next 3 Months, Next 6 Months, and Next 9 Months. This can be toggled on & off from the

menu.
As with Sales Pipelines, Opportunities in Sales Forecasting can be modified, updated, or moved using click-and-drag to: Delete, Adjust estimated close date, marked as Won, or marked as Lost.
We hope you find these new features helpful. If you have any questions about implementing them, or if you have any suggestions or comments, please send an email to support@bluecamroo.com. We'll be glad to help!
The BlueCamroo Team
User Comments