Hardcode your Workflow Rules "From" address
BlueCamroo has a number of system emails that alert users to various system events like a Task has been assigned or an expense sheet has been submitted. For users who wish to create alerts for system events not handled by the built-in alert system, Setup's Workflow Rules (found under the Automation submenu) are a great way to ensure BlueCamroo automatically responds to any number of conditions. For example, if a new lead is added and the lead's company has an income over $1,000,000, you might want to create a Workflow Rule to send an email to the company partners so they can take a special interest in a potentially lucrative business relationship.
Normally, emails generated by Workflow Rules will complete the email's From fields using the name and email of the user triggering the rule. In the example above the email would appear to come from whoever was given ownership of the lead. Since this is a potentially lucrative future account, it would serve the Sales Manager better career wise if he/she appeared to be the bearer of great news instead of a lowly sales guy.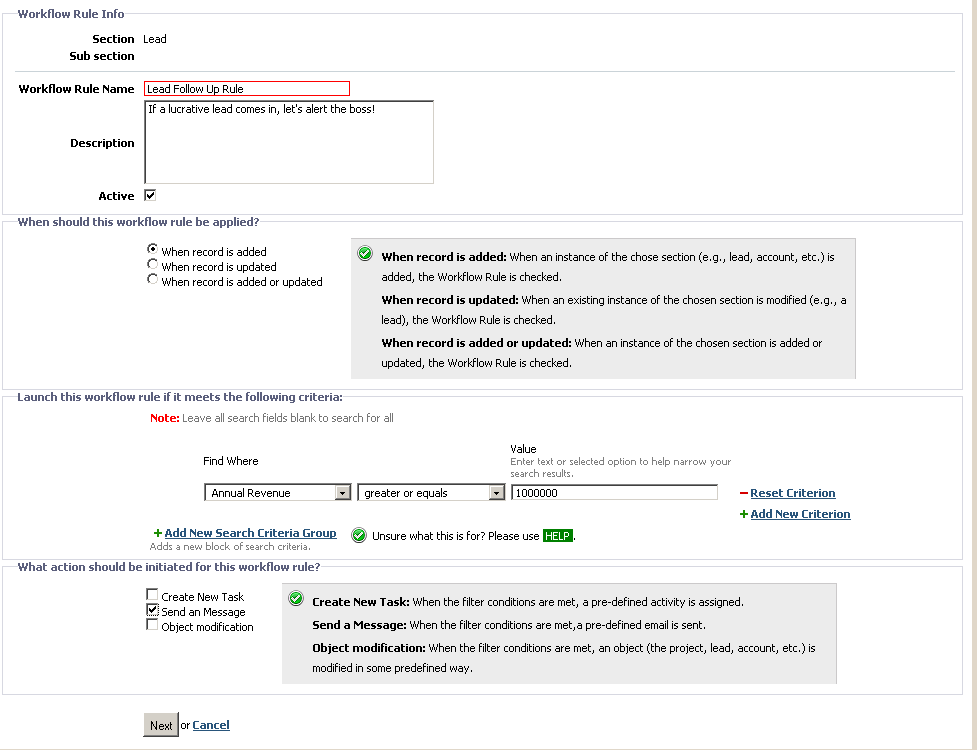 To aid in situations like this (or more likely less Machiavellian situations), we've modified the Workflow email page to allow you to hardcode a From name and email, making it appear the email always comes from one user.
An alternative use for this modification is you can simply put in a Do Not Reply type From Name/ From Email. This way the Workflow Rule isn't resulting in a lot of unnecessary follow up emails from the receiver.
This small but useful modification is part of ten system updates we've released today (September 15, 2010). You can review other changes by downloading the September release notes.
User Comments
re: Hardcode your Workflow Rules
1
re: Hardcode your Workflow Rules
1
re: Hardcode your Workflow Rules
1