Always have a reason to call
It's conventional wisdom in sales if you're calling on a client or lead, you should have a reason to call. That your product or service will make you money and is the greatest thing on the planet seems a good reason to you, but people are pitched constantly with products/services that are the greatest. It seems less of an occasion to them. Hence, if you make a call, don't leave a client or lead feeling like they were some random drive-by. More timely the reason to call, more specific your lead in, and more in sync your pitch is with the client/lead's current needs, the better your chances of generating a fruitful call.
Have a tough call to get out? Scout it out.
You might have noticed more and more clients and leads are using social networking sites like Twitter to make purchase decisions, request product help, and generally pipe up about what's amusing or bothering them. From a sales perspective, having an unvarnished look at what's on a person's mind can be invaluable in terms of tailoring your prospecting call and fulfilling that sales maxim that you should always have a reason to call.
BlueCamroo's new Social Network Scout feature can help you get that insight about your lead or client or even help uncover new leads.
Tweak it with tweets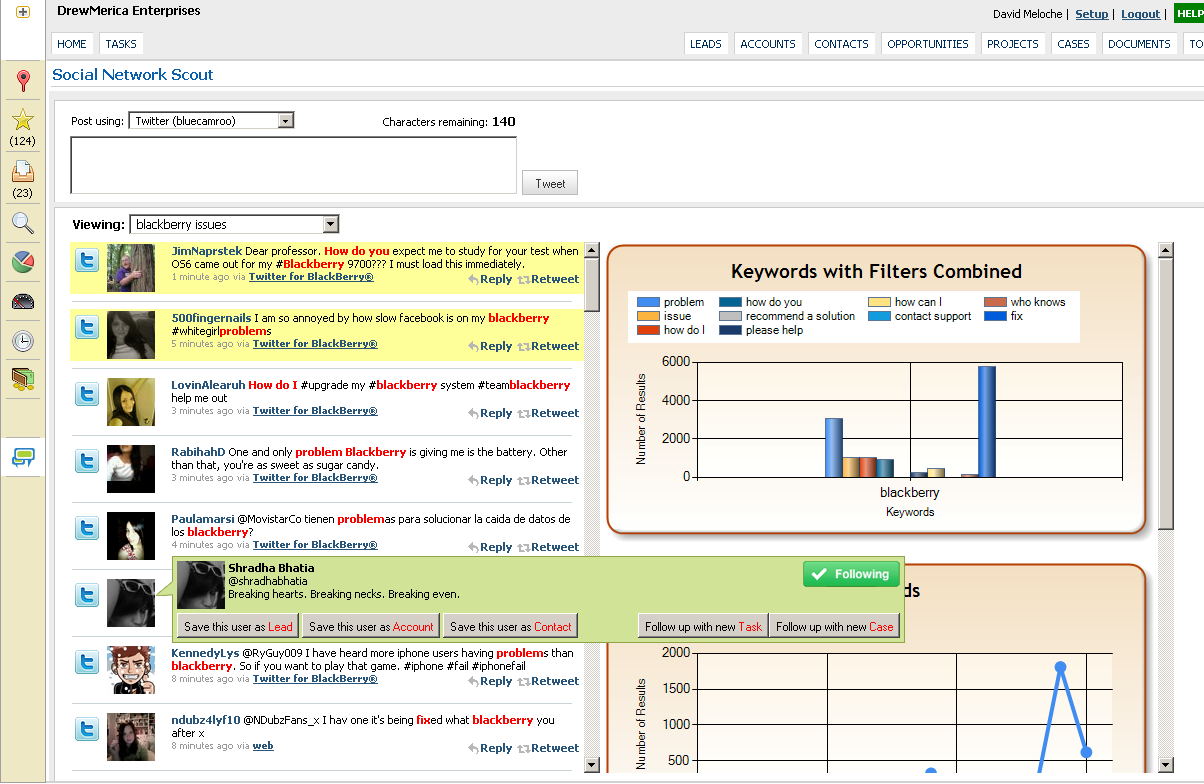 In terms of gaining a lead, BlueCamroo's Social Network Scout lets you filter Twitter for keywords and sentiments to bring you users with a problem your product or service can neatly solve. You can add the person as a lead directly into the system. As well, you can also immediately follow the user from your Social Network Scout home page. The great thing with Twitter is you don't even need to make a direct sales pitch, at least not initially. Just adding a user let's the user know he or she is being followed. Most people naturally spend some time investigating who their new follower is. If you have a good professional profile and a link to a good professional home page, the user might make the connection.
For clients and leads in your system, if you know their Twitter account, BlueCamroo's Social Network Scout feature makes it easy to keep track of messages clients and leads are posting to their social networks. Lead, accounts, and contacts now have a Social Network Scout icon in their Left Pane Toolbar. Click that and it brings up a list of their Twitter activity. Before you call a lead or client, click the Social Network Scout button and review recent tweets. Has the client been on vacation recently and visited some place you're familiar with? Who doesn't want to spend a bit of time retelling vacation highlights?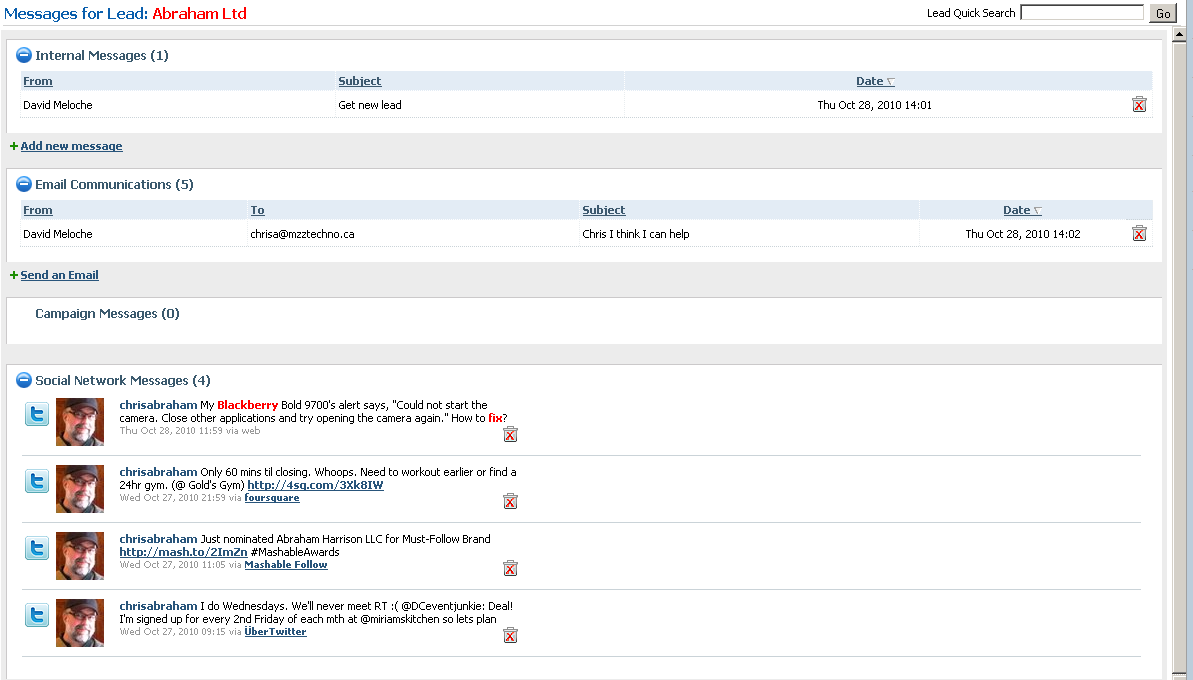 You can also save significant tweets to the lead/account/contact's message page, letting you build up a client profile that can help make your pitch swim and not sink.
So if you're struggling with finding a reason to call, BlueCamroo's new Social Network Scout answers that call before you make the call.
User Comments
re: Always have a reason to call
1
re: Always have a reason to call
1
re: Always have a reason to call
1