Frictionless Sharing or Over Sharing?
I noticed something. I actually noticed something. Friends on Facebook posting links to news stories. Okay, that's not new. I'm increasingly letting my friends become my news gate keepers, cluing me into technology, political, "culture wars", and science topics I should read. I'm, in a way, outsourcing my confirmation seeking bias.
But lately when you click to read a linked story, you don't get the story. You get a request to let the news org add its app to your Facebook wall (or timeline as they call it now). Once authorized, then you get to read the story. There are some instant gratification issues here. I just want to read the story, not install an app and click all those next and accept buttons. UK's The Guardian and the USA's Washington Post and Wall Street Journal have all incorporated this news sharing app. For those who won't want to add another app to their Facebook, the work around is simply googling on the headline and then reading outside of a click-through.
If I were to install the app and then read the article, the app would then post on my Facebook wall that I was reading the news story and every other news story I chose to read.
Now, don't get me wrong. Free content is not a human right. If the Wall Street Journal wants me to jump through a ring of fire to read about the shale gas industry I might just do it.
The tech zeitgeist has dubbed this "frictionless sharing". Although it strikes me as basically a return to the "push news" concept from the late 1990s. I, myself, might have called it "over sharing". There are some articles I want to share on my Facebook. But I don't want every article I randomly surf to be shared. Sure, I want my Facebook friends to see I'm interested in stories about central banking but I don't want them to see for every one serious article I appear to be reading I'm reading five articles about octomoms, incontinence treatments in the pipeline, and Adam Sandler movie reviews.
Frictionless sharing isn't particularly new. Internet Messaging clients have long had plugins that tell other users what music you're listening to. Who of us doesn't think we have a refined, eclectic taste in music and the sooner the rest of the world get hip to musical stylings of Trans-Siberian Orchestra the better we'll all get along. Am I right?
But there's something just a bit unsettling about an app that automatically shares with other users what we're reading. Or watching online.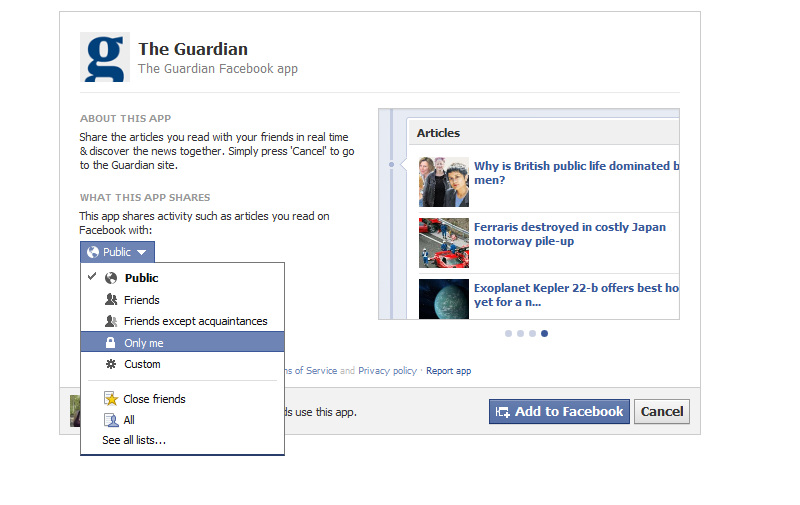 Naturally, sites that rely on ad revenue love the idea. Anything that drives clicks. Frictionless sharing is certainly not the latest two horned, spike-tailed devil to come out of the dungeon labs of Facebook. Like a lot of things Facebook, it's a work in progress that gets refined after a lot of users shout about it and then kind of forget what they were shouting about when it becomes familiar to them. And sometimes if you look closely, privacy concerns are already addressed. For example, when you add The Guardian app, you can set from the get go to keep the sharing private ("Only me"). But that option is easy to miss when you're rushing to read the article.
User Comments
re: Frictionless Sharing or Over Sharing?
1
re: Frictionless Sharing or Over Sharing?
1
re: Frictionless Sharing or Over Sharing?
1