Five Steps in the Project Management Process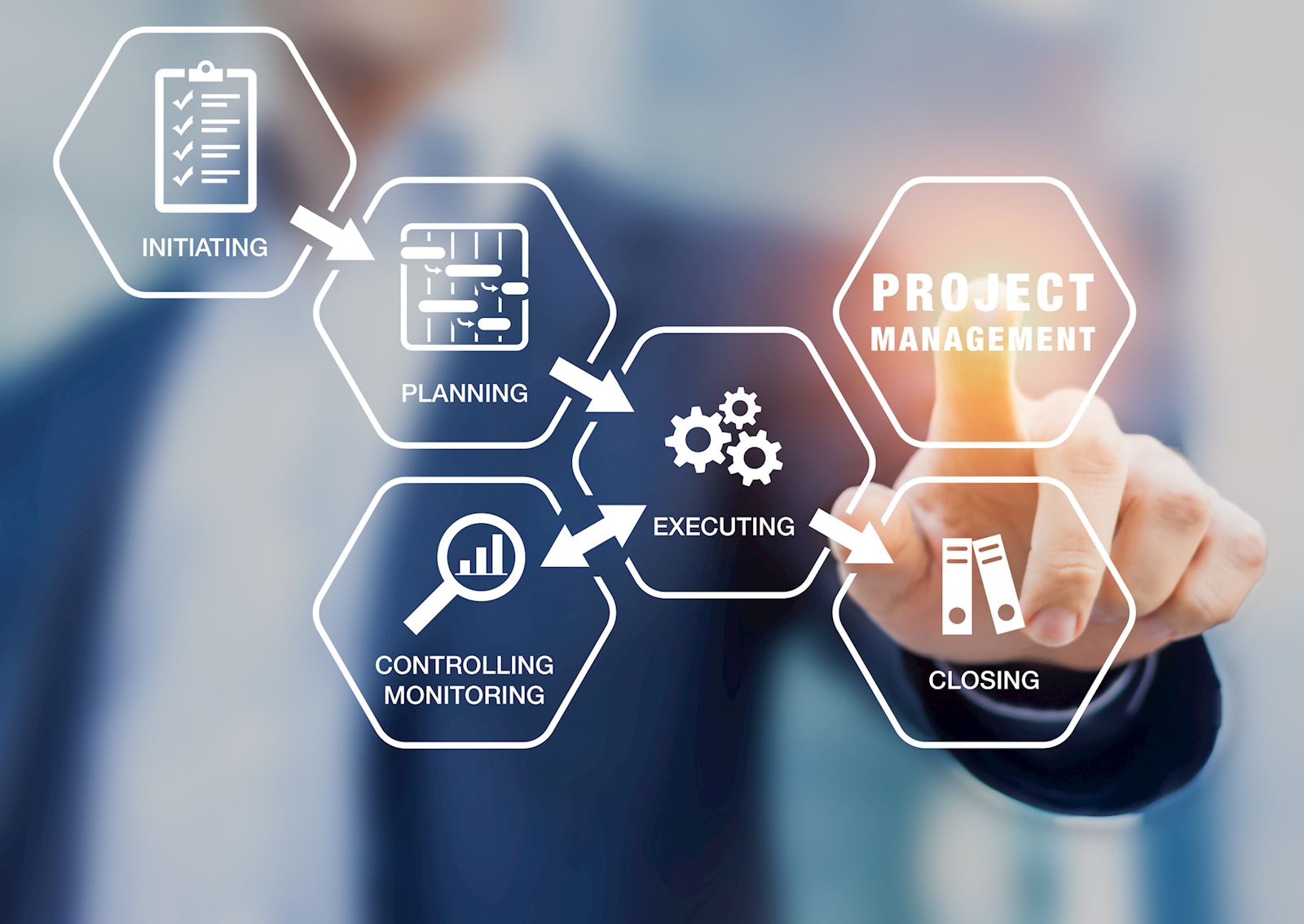 In the field of Project Management, a project is generally divided into phases or stages. While there are variations of this process with slightly different terms nuanced per industry, these stages structure a project from start to finish.
Project managers need to have a thorough understanding of the structure of these stages as well as an efficient method and/or a suitable platform, such as a Project Management system for moving through each stage to help businesses achieve greater control over the flow of their projects.
Many businesses find that they work on the same types of projects or repeat the same processes or tasks for different clients. Following these five steps during the project management process can help ensure consistent success for your business and appreciative clients.
1. Concept and Initiation
During the concept phase of your project, your team will typically perform due diligence on potential ideas for products or services. Defining the scope and intent of your project is also part of this phase and is typically formalized in a written business case Which is then shared with stakeholders and managers to ensure that the general idea behind the project is sound and in accordance with the larger business plan. Once a final concept has been agreed on and approved, your project will be officially underway.
During this phase, the assigned project manager can begin the process of entering the project parameters into your Project Management software system. These parameters typically include:
Description of project
Documentation of project objectives or deliverables
Assignment of project manager and other key roles
Rough project Cost Estimation
Your system should allow information added during this phase to be altered or adjusted. It should give you the ability to reflect the changing market conditions and to account for unexpected delays and other alterations to your original plan.
2. Definition and Planning
When a concept receives the green light, it is time to create the roadmap to success for your project. This process generally includes:
Setting project timelines
Setting goals
Defining stages and milestones
Defining tasks and objectives
Assigning tasks to individuals or teams
Deadlines for completion
Fine-tuning project Cost Estimations (creating a Budget)
Your Project Management automation software should provide you with convenient tools that can scrutinize resource availability and utilization as well as make tracking and assigning tasks easy. These tools should also offer scheduling options that help keep your project on track to increase the odds of on-time delivery.
This is also when dependencies and workflows are created to ensure each part of the project follows a logical sequence to success while establishing accountability along the way.
By entering all the available project information into your software platform, you can enjoy at-a-glance oversight throughout the later phases of your project. This is also a good time to assess the attainability of your goals and to zero in on the most important tasks. An automated system allows you and your team to do this quickly and seamlessly.
3. Launch and Execution
During the execution phase of the project, your team will work on the various tasks and objectives for the project. During this stage any dependencies put in place come into play. Finish-to-Start dependencies require completion of one task before another task can begin. For example, ordering and delivery of necessary materials must occur before installation of a product can begin.
Other activities may be performed simultaneously to ensure the best use of staff time and the fastest possible completion dates. A good example of this is the development of a marketing plan and the design of packaging for a specific product. These two tasks can be performed simultaneously and are not necessarily dependent on each other for completion.
Modern Project Management software systems can provide you with practical tools for tracking various activities. For tasks that are scheduled to begin upon the completion of another activity, these systems can provide automatic notifications prompting for teams and individuals to ensure that these component parts of your project are started on time.
Automated systems trigger the start of one process as soon as another is completed, allowing you to enjoy the greatest degree of control over the workflows and tasks involved in your project.
4. Performance and Control
At the managerial and supervisor level, monitoring the performance and progress of a project is critical to ensure that tasks are being completed on time and that all necessary materials and resources are available when needed.
Tracking timelines and budget while maintaining accountability during the execution and performance phases of your project is essential to ensure that things go smoothly and that all parties are held accountable for their actions and their performance on behalf of your project.
Monitoring costs also provides you with added support in adhering to your budget and invoicing clients as benchmarks are reached in the project.
Project Management software can provide you with a clear picture of who did what and at what time, allowing you to supervise and monitor workflows and to identify pain points that could be slowing down your process. These observations will allow you to recognize certain pitfalls to be avoided in the future projects.
Collaborative tools can allow you to work directly with the groups, teams, or individuals who are having trouble keeping up with their required tasks. Additionally, project management tools can allow you to identify top performers and to adjust schedules as conditions change to different elements of your project.
5. Project Close
While project types may repeat, each individual project has a start and a finish. After all the tasks of a project have been completed and the client has signed off on the project, it is time to close the project.
Depending on your invoicing procedures, you may be preparing to send out partial or temporary invoices to your clients at the close of your project. Evaluation of the final result also occurs during this phase. Closing out your contract or delivering your product is a good opportunity to take stock of your workflows, productivity, and efficiency. The lessons learned during this phase can be used in future projects to enhance the planning and execution process.
Invoicing and accounting processes can be automated through Project Management systems, allowing you to enjoy added convenience during this process. You can also track productivity and performance to provide guidance during employee evaluations and to allow you to reward outstanding effort on the part of your team members. This can ensure the most effective use of human resources during upcoming projects.
Automating the Project from Start to Finish
It's crucial to follow a process to ensure the success of a project from start to finish and at all points in between. Project Management software solutions help not only project managers, but all team members and stakeholders involved in a project manage, create, oversee, share, and automate their assigned parts of a project.
A few of the software features you need to achieve greater project success include:
Invoicing capabilities
Stage completion signoff capabilities
Time-tracking functions
Task management and assignment
Resource monitoring and budgeting assistance
Reusable project and stage templates
Collaboration tools
Easy and effective internal communications
Automating your process helps you deliver your projects on time and within budget.
BlueCamroo is designed to provide you, your team, and clients with support through all the stages of your project. Enjoy access to the cutting-edge features and functionality of a Project Management system that integrate seamlessly with a robust Customer Relationship Management (CRM) software.
Contact BlueCamroo today to find out you can easily manage your projects and business in one simple-to-use online software.
User Comments