Salesforce.com - Pride comes before...?
Disclosure: I think Salesforce.com have a great product. If I were buying a CRM application for a large corporate, had a team of developers to configure and integrate it, and had DEEP pockets, I'd look very seriously at Salesforce.
But does that mean I think every other CRM (including our own!) is junk? Salesforce do!
Right now (here in Canada - I don't know anywhere else), if I search Google for any big name CRM company and the word 'CRM', one of the 'sponsored results' is a link to some Salesforce dis-information. It's the same whether I search 'SAP CRM', 'Siebel CRM' or any other big name.
And if it's an open-source player, Salesforce get even braver. Here's what I saw when I searched 'Zoho CRM' - notice the special 'vs_Zoho' link:
... or this one, for vTiger:

But whichever company I search, the message is the same: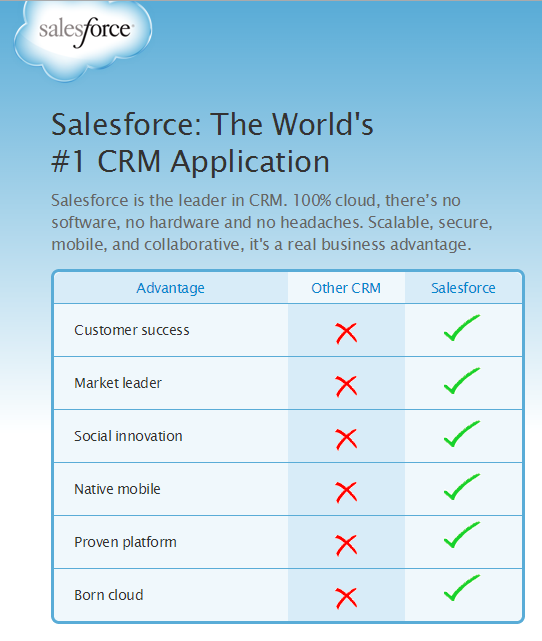 Wow! Salesforce is the ONLY company that provides customers success? Don't tell Zoho or Infusionsoft or SAP or Seibel. Or BlueCamroo!
The ONLY company that is doing innovative things with Social? Don't tell Nimble or NextPrinciples or insightly. Or BlueCamroo!
The ONLY solution with a proven technology platform, a mobile app, or developed for the cloud? Don't get me started!
There's an old saying... "pride comes before a fall". This kind of arrogance just invites competitors - new and old - to offer that extra push!
What do you think?
User Comments
re: Salesforce.com - Pride comes before...?
10/17/2013
8:35 AM
by James Ramsay
Paul - I agree with your point of view.

I actually have a soft spot for Mark Benihoff - he kind of convinced me that it was okey to be working in enterprise Software - that we could make a difference and my kids could be proud of me. He also inspired me never to wear sneakers with a suit and encouraged me to do a 360 and sign up for slimmers world. These are fine reasons why industry sectors need figureheads - so that we have an anchor to benchmark against and make the choices to be different.

I have had Salesforce in my life as a user (still do), as a customer (it had all the glue and widgets we needed) and as a competitor. I know people who work for them who are good guys and say its a great place to be (for now).

But the disconnect for me is that the experience of using the software is underwhelming. CRM has to be many things - it cant be on its own, cant be an island - its got to integrate... but seriously is this the best we can have.

Its a long way from Paul Greenbergs view of the future for Customer Relationship Management - and there is plenty of room for business and organizations to make other choices.

I think they can be proud of what they have achieved - but the tick matrix is very funny - and not credible... A bit like Elvis in his white jump suit Vegas years - not quite living in the real world any more.

There is more than one way to rock ;-)

-James
CRM Consulting Services
6/14/2016
7:32 AM
by Markus Stoinis
Yeah rightly said if you go and search for crm we will be getting salesforce at the top of search results as it is one of the best crm software we have in the market, because it
has given trust to companies with their success and good customer experience which helps them to stand at the top of search as well as no 1 in crm.
re: Salesforce.com - Pride comes before...?
1
re: Salesforce.com - Pride comes before...?
1
re: Salesforce.com - Pride comes before...?
1
re: Salesforce.com - Pride comes before...?
1
re: Salesforce.com - Pride comes before...?
1
re: Salesforce.com - Pride comes before...?
1