Share Updates, Tasks, Plans and Documents.

BlueCamroo

Keeps Everyone in the Loop
Collaborate With Your Team
Post an Update
Whether it's on Facebook, LinkedIn or Twitter, we're all used to the idea of posting updates into a stream. Making and sharing notes in BlueCamroo is no different. Every Customer, every Project, every Opportunity, in fact, every data 'Object' in BlueCamroo has its own Update Stream where you can add and share information.
What's the Next Step?
But a CRM and Project Management system is not the same thing as a social network. Facebook and Twitter are great for sharing chatter and posting amusing cat photos. Your CRM and Project Management system is there to help you get things done. And in business that usually means communicating not just what's been done, but what needs to be done next!
That's why Update Streams in BlueCamroo have two parts: a Status Update and Next Steps, so everyone knows what needs doing to meet your business goals.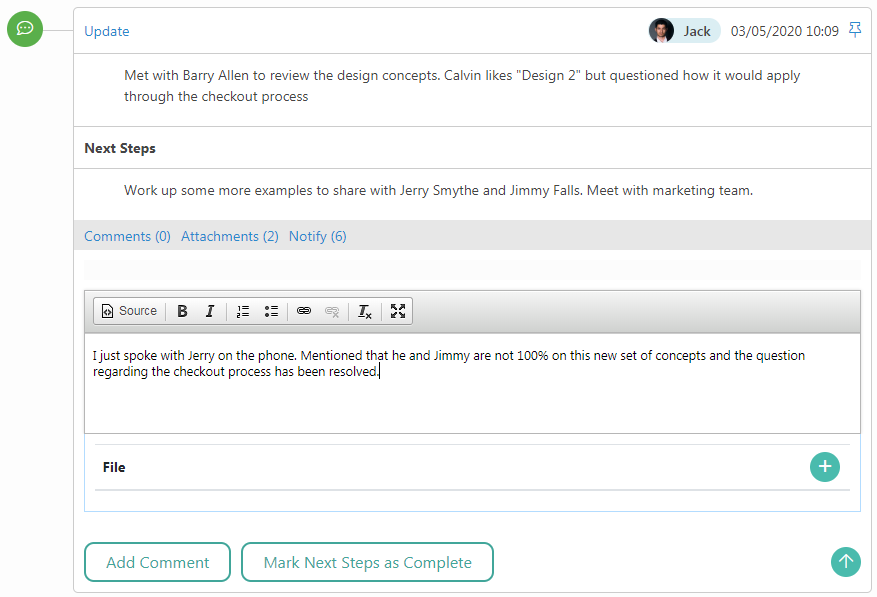 Notify, Create Tasks and Schedule a Meeting
Creating an Update is great, but you need to make sure your team knows it's there and what's expected of them individually. That's why BlueCamroo also lets you notify team members, and create Tasks and schedule meetings (events) all in one step as you post your update. BlueCamroo works with your email, allowing team members to follow updates via email and post comment by simply replying to the email.
Collaborate With Your Customers and Suppliers
BlueCamroo makes it just as easy to keep Customers and Suppliers in the loop, with Unlimited Free External Users in your BlueCamroo Workspace. Whenever you're posting an update for a Project or a Case (support ticket / issue) that involves working with customers and / or suppliers, just check the Customer or Supplier checkbox (or both!) to share your updates with them also.

Your invited Customers and Suppliers have access to view and respond to your Updates, and also any Tasks you have assigned to them.
Register and Start Working Today!