Take advantage of
BlueCamroo Social CRM


integrations to find and support customers
Online Social Networks are big news, but also a big drain on your time if you don't have the right tools. BlueCamroo helps you to search for sales opportunities, listen to the network buzz, and support clients easily and efficiently.
View & Share Social Updates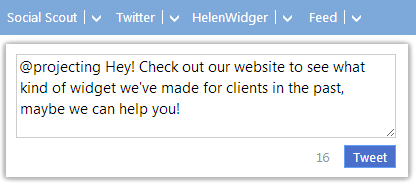 BlueCamroo allows you, and every member of your team, to configure a set of social network accounts to view and post within BlueCamroo. Each individual can set their own sharing rules, giving close teams the ability to post on each other's behalf and view updates from a greater universe of contacts than they might individually be able to access.
Company Facebook Page admins can post to both their own page and the company's.
Find Sales Opportunities
More than 400 million tweets will be sent today, and some of those will be people asking the 'Twitterverse' where they can source exactly the service you provide. Your only challenge is to hear them over all the noise!

BlueCamroo's Social Scout can help. Using a Sales Opportunity Search, you can configure keywords you'd like to listen for on Twitter (and on Facebook for updates published with 'public' permissions). BlueCamroo combines these with 'buying signals' such as "we need", "I'm looking for" and "Can anyone recommend", to filter out much of the noise and bring you back results with a high proportion of actionable sales opportunities. Just a couple of clicks and you can add these as leads, to respond back via Twitter, or to follow up onl'ine.
Support Clients & Listen to the Buzz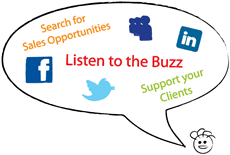 In addition to Sales Opportunity Searches, BlueCamroo enables you to configure searches for customers raising issues about your company or products, and to create a Case for follow-up. You can also tap into network 'buzz' around your industry by searching for relevant keywords appearing with strong sentiments – "rocks" "sucks" "epic" "fail", and so on. All searches and filters are completely configurable, so you can tune them for just the kinds of result that interest you.
'Mind-read' Contacts before you call
For every contact you have in your BlueCamroo database, adding their social network identities allows you to 'mind-read' before making a call or send an email. BlueCamroo lets you see at a glance what your contact has been posting to each network – all right there in the customer record – so you can avoid calling at an insensitive time, or take advantage of a great conversational opening.
Take Action
Spotting relevant tweets, posts and updates is only half the battle. Like a fast-flowing river, the stream of social communication is rushing by, and individual messages disappear in moments. BlueCamroo lets you create Leads or save relevant messages to your customer's record, and create Tasks, Events or Cases for follow-up with just a few clicks.

Register and Start Working Today!