6 Features Every CRM Should Have
Customer Relationship Management (CRM) solutions allow businesses to establish and maintain strong relationships with sales leads and customers for the ultimate purpose of driving sales and increasing profitability.
CRM software also collects and processes customer data to help businesses identify trends and make more informed business decisions. If you're thinking about selecting a new CRM solution for your business, here are six features every CRM should offer.
1. Social Media Integration
Social media integration is one of the most important features a CRM solution could have. In today's society, just about every customer will have some sort of social media presence.
Unsurprisingly, many businesses have found that social media platforms can be a goldmine for building a solid customer base. Therefore, you should look for a CRM solution that allows users to take advantage of social media to search for sales opportunities, supporting clients, and keeping up with network buzz.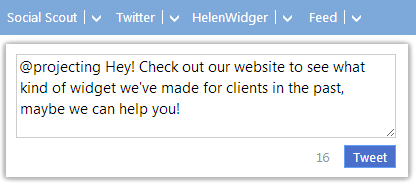 A good CRM solution will make it possible for you to configure social network accounts for posting and viewing. The solution should also help you find sales opportunities on multiple social media platforms, such as Facebook and Twitter.
Nearly 5 billion comments are left on Facebook Pages every month. Some of these comments will be from people inquiring about a good source for the products and services your business provides.
A top-notch CRM solution will help you identify these needles in a haystack. After helping you identify relevant social media posts, you should be able to quickly create leads, events, and tasks based on these posts directly from within the CRM.
The world is more fast-paced than ever, and you need to be able to capitalize on these opportunities quickly before they slip through your hands.
2. Email Marketing/Campaign Management
In comparison to social media marketing, email marketing is a more traditional strategy. However, it is just as essential and should not be overlooked.
A strong email marketing campaign can help you increase your sales conversions and encourage repeat sales. A good CRM solution will make it easy for you to remain in consistent contact with your customers. It will also make it easy for you to initiate communication with promising sales leads for the ultimate purpose of converting these leads to customers.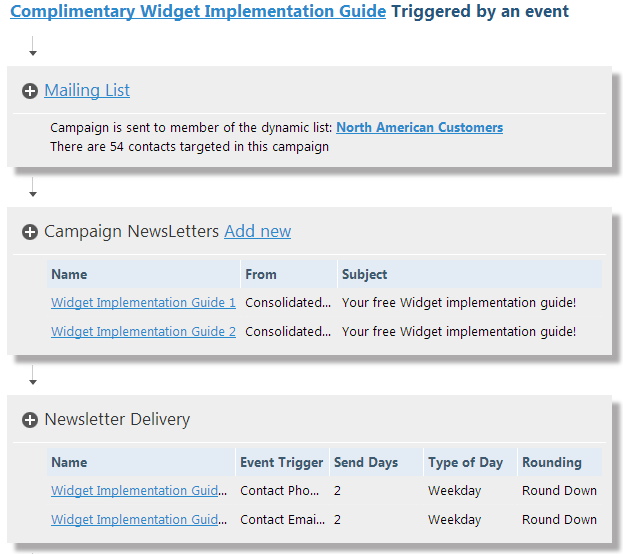 Look for a CRM solution that allows you to integrate email marketing with accounts, leads, projects, contacts, and opportunities.
The best CRM solutions will make it possible for you to automatically enroll new leads in email campaigns relevant to their needs. This will help you keep your business's leads engaged and make it easy for you to start a new campaign if the sales lead ends up taking any action with the sent emails.
For example, if your lead clicks on a link pertaining to a certain product or service in the email, or completes a web form you will be able to target them based on the product or service they're interested in.
One of the most important aspects of email marketing is constant communication, so it is essential that the CRM solution you choose allows you to schedule regular newsletters or emails to your customers and sales leads.
3. Simplicity and Ease of Integration with Existing In-office Systems
Another important feature for a CRM is simplicity and ease of integration with existing in-office systems. You want a CRM that can effectively integrate your customer service, marketing, and sales functions.
This will make it easier for your employees to work with each other and share important information. For example, integrating your CRM with an online support ticketing system helps your employees better support your customers since they will have all of the background information about that customer in the CRM record.
Your customers will be treated as old friends as opposed to strangers who need help.
Also, your employees won't have to waste valuable time sending and receiving information to and from different departments because the integrated CRM will do the heavy-lifting for them. Instead, your employees will be able to focus on tasks more essential to the operation of your business.
4. Remote and Mobile Access
In this day and age, it is impossible to ignore the growing importance of mobility in our daily lives. Mobility is quickly creeping into all aspects of personal and business life.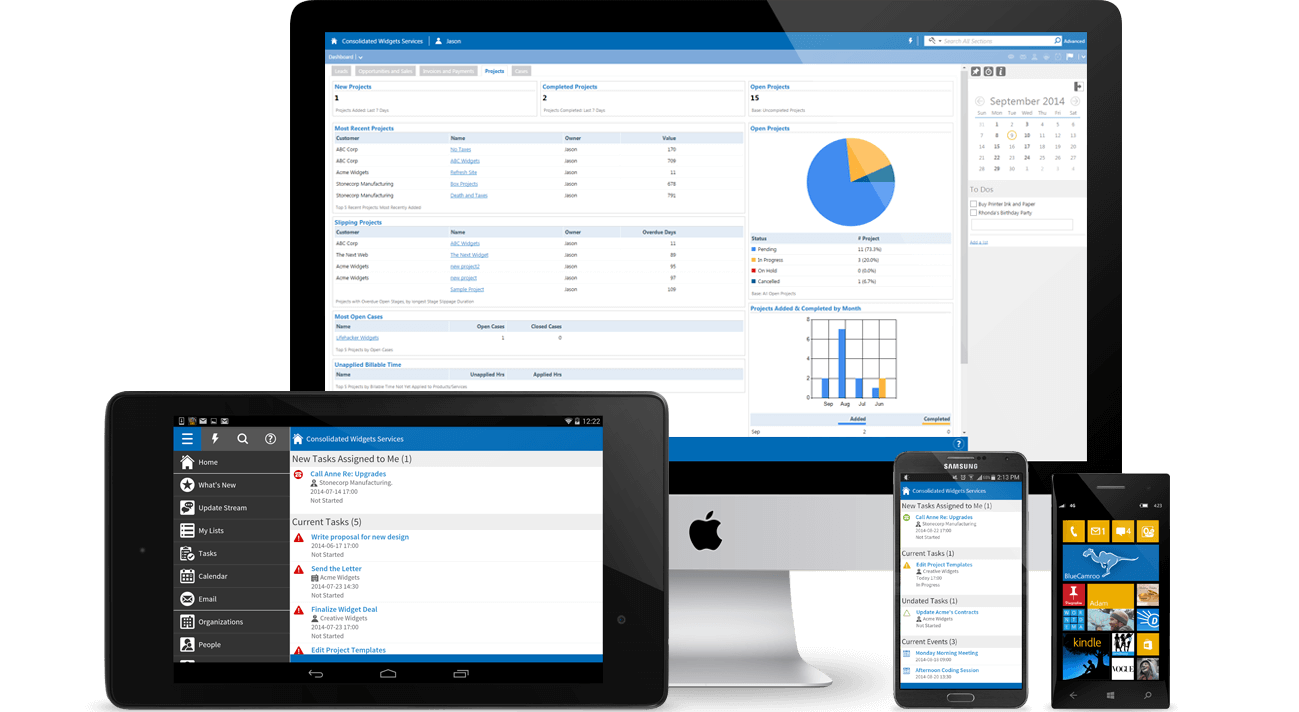 Many studies indicate that organizations that embrace mobility tend to do better than organizations that don't. VMware conducted a study and found that business mobility led to better workflow, higher ROI, and higher employee productivity. Therefore, you should look for a CRM solution that features remote and mobile access.
Some of the main benefits of having mobile access to your CRM include being able to:
Access contact information and the latest status updates including emails, meeting dates, phone calls, etc.
View current projects and ensure associated stages and tasks are being completed as scheduled.
Review leads and the latest updates to the sales pipeline.
Review recently closed and/or outstanding support tickets prior to onsite meetings with customers.
5. Lead Generation and Follow-up Tracking
Every business needs to focus on generating sales leads if they want to survive. Therefore, you need a CRM solution that makes it easy to get leads into the system.
A top-notch CRM solution will offer you a number of different ways to capture leads.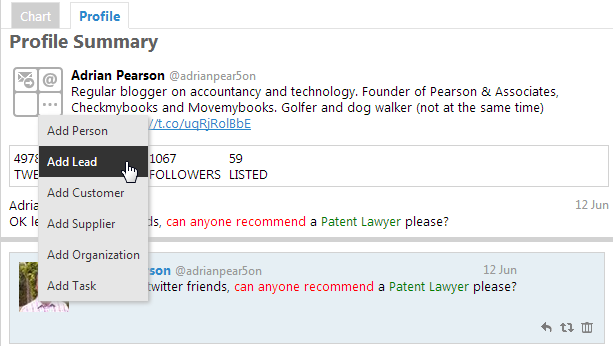 At a minimum, you should be able to capture leads from email inquiries, websites, and directly from social media websites like Facebook and Twitter. Some solutions also allow businesses to capture leads from API connections and imports as well.
Finally, there should also be some form of follow-up tracking. There should be workflow rules built-in so that you can respond to these leads by automatically assigning tasks to members of your sales team.
You should also be able to use email auto-responders to initiate or continue communication with the lead in question.
6. Manage Customers and Contacts
The right CRM solution will help you manage customers and contacts so that you can turn your sales leads into loyal, long-lasting customers. It's one thing to acquire new customers and another thing to actually retain your existing customers.
Therefore, a solid CRM solution will give you and your team the tools and information they need for customer retention.
Look for a CRM solution that provides you with a way to reward loyal and profitable customers. CRM solutions should store as much information about customers as possible and help you identify the "VIP customers" that you should be directing more of your resources to.
The more customer data that is stored in a CRM solution, the easier it will be for your marketing and sales team to give your customers and clients an experience that will blow them away.
A Customer Relationship Management solution is one of the most important solutions in a business's arsenal of tools. Therefore, you shouldn't take the task of shopping for a CRM solution for your business lightly.
BlueCamroo is an all-in-one business management and CRM solution for small to medium sized businesses.
Contact us for more information about the essential features a CRM solution should have or about CRM solutions in general.
User Comments